Apart from a plethora of social media and music marketing solutions, musicians these days can also exploit various merch store solutions (i.e."band merch") to help grow their brand. Band merch can be a great way to earn supplemental and residual income to help finance upcoming recordings, shows and promotions. Band merch has the potential to deliver significant sources of income, which is a huge reason why your band may want to consider setting up a Merch Store. The synergistic combo of garnering both sales revenue AND viral merch marketing is an appealing tactic in today's catalytic yet convoluted music marketplace.
Now, you might feel intimidated to start selling t-shirts, hoodies, posters, and other swag. Who wouldn't, especially when money is scarce and cash is king. Selling merch is not anything like selling music, and you might be confused about where to start, especially when trying to design your band logo or finance manufacturing. Don't worry. There are a lot of solutions out there! With one of these online Merch Store solutions, you can literally setup your online store within an hour. Just remember, when loyal fans are wearing your band's swag, it'll 'posterize' your brand and create viral momentum. What costs you $5 to make will not only earn you $10 when sold, it will also generate a walking-talking marketing machine throughout the world!
Let's take a look at the 10 online merch store solutions that independent musicians can use.
10 Online Merch Store Solutions for Independent Musicians and Bands
Dizzyjam one of the dedicated online merch store solutions for musicians. It is completely free to sign up with Dizzyjam. Dizzyjam provides a unique store url like bandname.dizzyjam.com, manages printing and shipping of the orders, generates embed codes with lots of customization, sets up a Facebook store to enable direct selling to your fans and sends you the profit every two months through Paypal.
MyMinto is another popular online merch store provider among independent musicians. MyMinto has a free plan to start with. However, it also has three paid subscription plans that provide added features and benefits. With the free account, a band can have up to 100 products and 10 pages for its store with MyMinto, which is more than sufficient for any band. On the downside, the free plan doesn't include a mobile store or digital product selling and does not allow the band to use custom URL for the store.
It is probably not as visually pleasing as its more famous competitors, but FourFour is loaded with features. FourFour is completely free to use. You can sell your branded t-shirts, posters, mugs, and even music tracks through a FourFour store.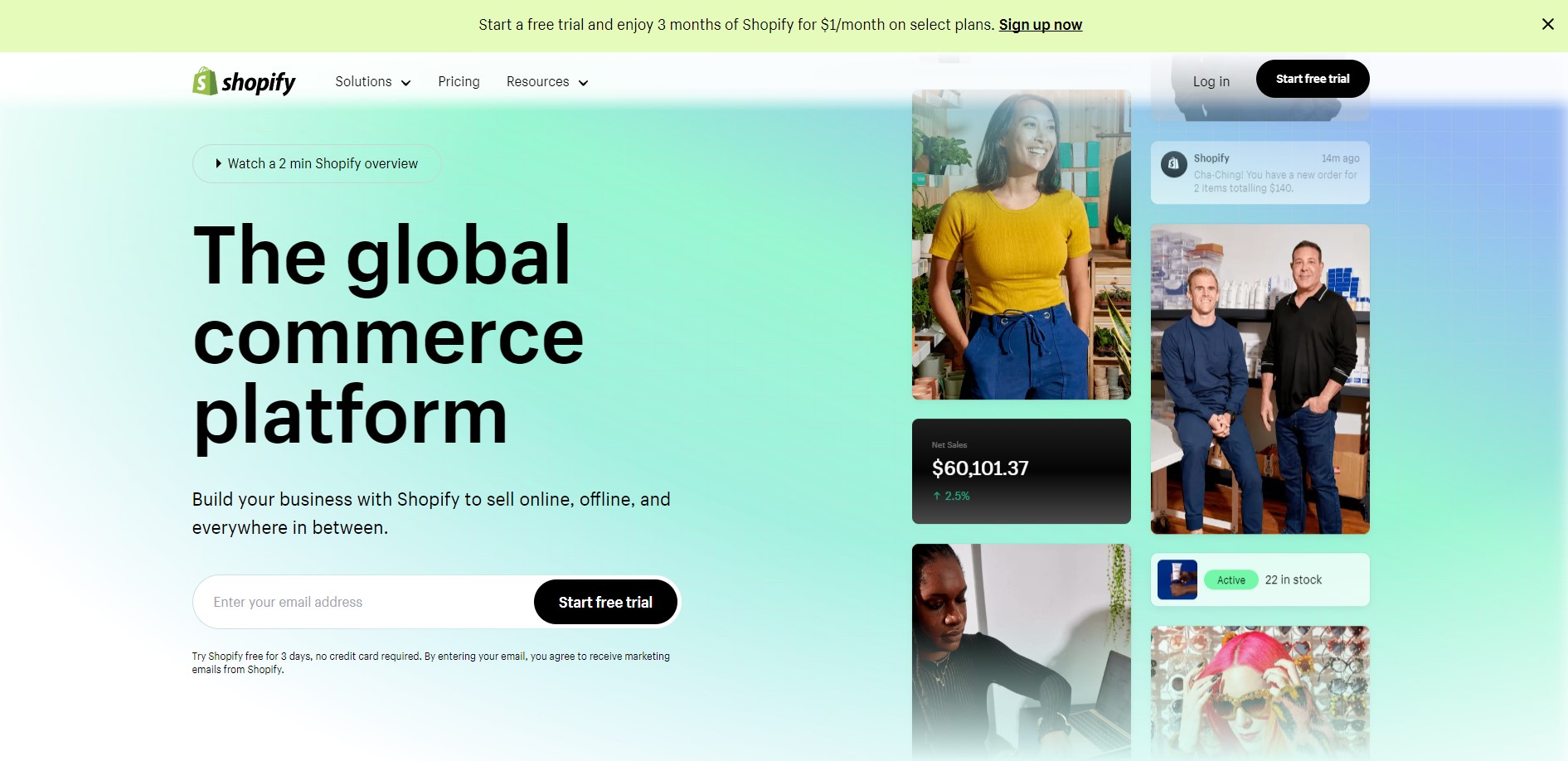 Shopify is another one of the great merch store solutions for independent bands and musicians. You can start with a 14-day free trial but have to choose a paid plan to continue using the service. It is very quick and easy to setup a store with Shopify and with the themes they provide, you can have a beautiful branded store in minutes. You can sell your music, other downloadable products and merch items through Shopify. You need to use a Shopify app like Printful or Merchify to sell apparel items.
With Bandzoogle, you will not have a store only- Bandzoogle provides all-in-one web presence platform for bands and musicians. With Bandzoogle, you can build a stunning website with store, blog, and even an email marketing tool. There is a 30-day free trial and it has three subscription plans, starting from $8.29/month.
If you are looking forward to selling a wide range of merch items through your band store, Galloree can be the perfect solution. Though it is not a dedicated-for-musicians service, it offers a really extensive range of different merch products that includes t-shirts, girls and babies apparels, tote bags, skateboards, device skins and cases, drinkware, art print, sportswear, hats and even socks. It is completely free to open a store with Galloree.
MerchDirect helps your band to sell anything directly to your fan base. You can sell your music or merch items or tickets. In fact, with MerchDirect, you can deliver any type of fan fulfillment. Operating since 1999, MerchDirect can be an affordable and convenient store solution for your band.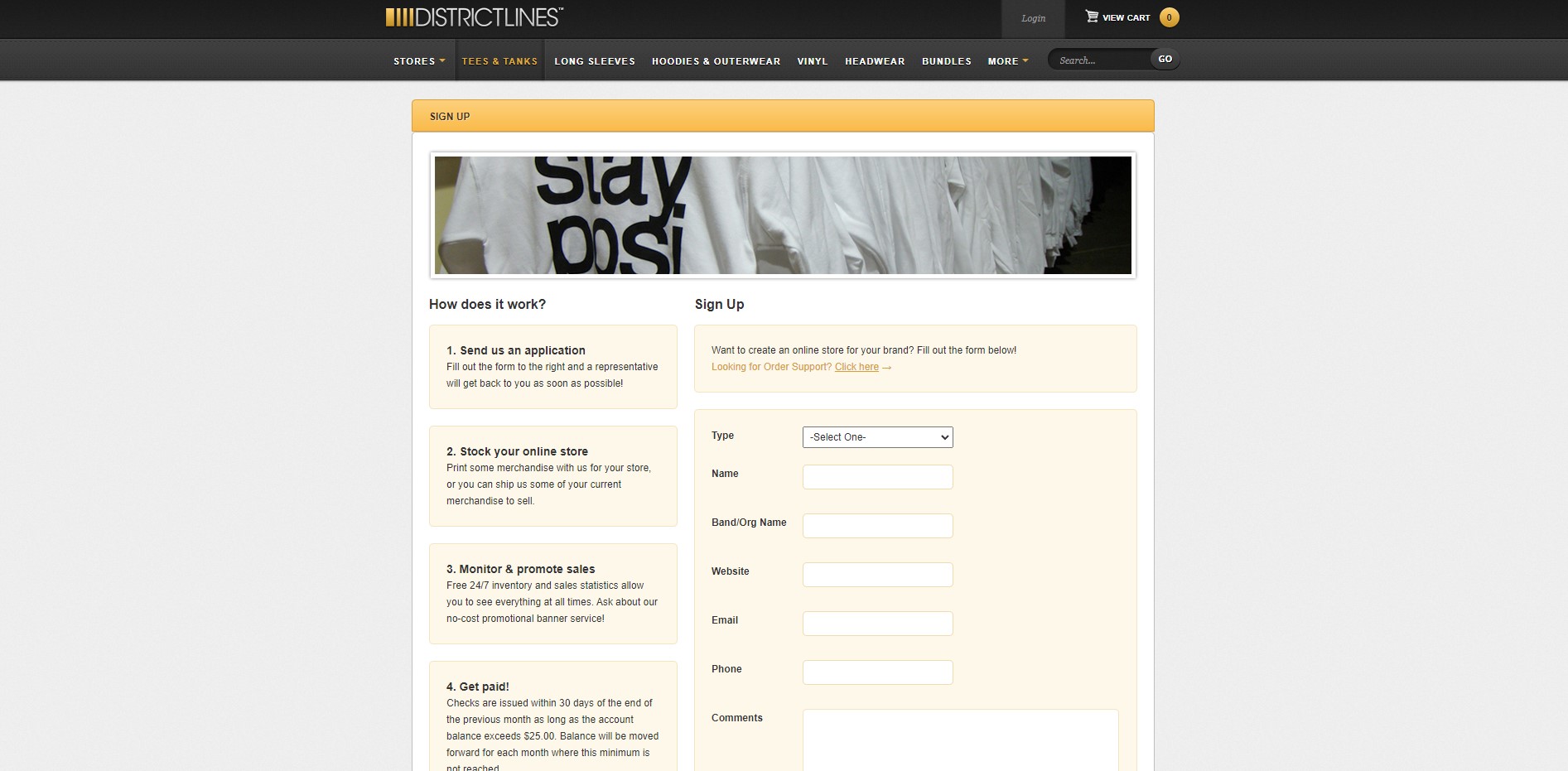 Want to open a well-designed store with a range of merch items? DistrictLine can be the solution you are looking for. You need to apply by filling out a form to open a store with DistrictLine. However, once your application is approved, they will take a lot of pain related to product processing, manufacturing, inventory management and promotion.
If your band has a huge fan following, GoMerch can be your store management and merch distribution partner considering GoMerch's strength with managing product/album launching campaigns. GoMerch is a sophisticated and all-around solution that includes vip pre-sales offers, pre-order campaigns, social media management, email marketing and branded apparel & product manufacturing.
Despite still being in beta phase, ArtistGap is a promising online merch store solution for bands. It is very easy to setup a store with ArtistGap and everything else i.e. printing, packaging and shipping is managed by ArtistGap.
Depending on your requirements, you can choose among these top 10 Merch Store providers or search for more. If you are already using a Merch Store provider, please let us know by leaving a comment about which service you are using for this purpose and what you feel about that service.