Discovering the best collaborative music production apps introduces career-changing connections and opportunities. However, many musicians don't know where to begin. We get it. With all the platforms and applications for music collaboration, it can be challenging to narrow down which to use.
Whether you're looking for a co-writer or audio engineer, there's an app for you. Collaborative music production apps come in all forms and styles, including Digital Audio Workstations (DAWs) and plugins. The most renowned apps and platforms provide artists with features for seamless collaboration regardless of their geographical location. And they foster community and connection amongst musicians.
Isolation rarely fosters creativity. That's why musicians gather online to work on audio projects and create masterpieces. You may find that working on a project with other artists helps clear your creative blockages.
There are more music collaboration apps available today than years ago. Therefore, you can collaborate with other artists without leaving your home recording studio. Let's look at the best music collaboration apps you should consider using.
Best Music Production Apps (& Others) for Collaboration
Collaboration comes in various forms. Sometimes it involves creating a new track with an artist in another time zone. Other times it entails getting feedback from your audio engineer or producer.
That's why you will come across different platforms when looking into the best collaborative music production apps. These platforms include Digital Audio Workstations (DAWs), where you can record, alter, and produce tracks. Or cloud-based services that make it easier to share files with people in different geographical locations.
You may also discover plugins that allow you to stream audio in studio quality while collaborating on a project. There are also musician networks where you can meet other artists around the globe. And web apps that combine some features of social media platforms with a DAW are also available.
As a result, artists have several music collaboration apps within reach. Below we walk you through the ten best collaborative music production apps.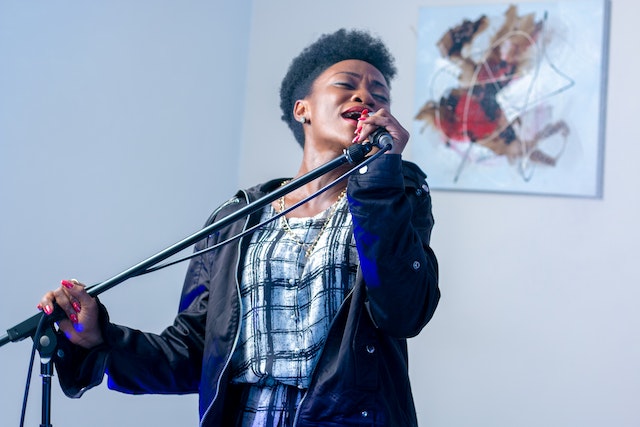 Kompoz
This smartly named platform is one of the best music collaboration apps. Kompoz allows you to collaborate on a song idea with people from anywhere around the world.
It's as easy as uploading your track idea onto Kompoz and inviting others to contribute to it. You have the choice of creating a public or private collaboration. The former is ideal if you want to work with artists in Kompoz's global community. While the latter is for anyone who wants to collaborate with band members or friends.
All artists have a profile where you can share your favorite genres, musical inspirations, and talents. Kompoz also allows you to create seller agreements and split sheets. That way, you can decide who owns what portion of a track and how contributors will be compensated.
In addition, you can sell your songs to fans through SoundBlend, a one-of-a-kind music store for crowdsourced music. If you sell your music through the store, Kompoz will manage payouts based on your split sheets.
Kompoz offers a free plan and three paid packages: Plus, Premier, and Pro. With the paid plans, you'll get more collaborations and file uploads in other formats besides MP3 and PDF.
Features
Community forum
Genre and music-related groups
Collaboration spotlight
Sessionwire
Sessionwire aims to make collaborations between musicians in different geographical locations as seamless as possible. It replicates the feeling you get from being in the studio with another artist. That's why it's one of the best collaborative music production apps to consider using.
The platform has a vast network of session singers, musicians, producers, and engineers in over 25 countries. You can record a song on your computer or laptop and then work on it with artists in other countries. Then a mix engineer can join the fun online to complete the song.
Sessionwire ensures audio shared over the internet is studio quality, bi-directional, and ultra-low-latency. Therefore, when you send audio to a collaborator's DAW, they receive it in Hi-Fi with minimal latency. You can also share your screen with collaborators when using Sessionwire.
There are three plans available for Sessionwire users: Free, Sessionpass, and Artist. Sessionpass is ideal for one-off sessions, while Artist gives you premium features like studio-style talkback.
Features
Live audio streaming between two macOS or PC recording apps
AAX, AU, and VST send and receive plugins
Secure file transfers
Video chat
BandLab
BandLab is a cross-platform DAW boasting best-in-class collaboration tools and technology. Its multifaceted software takes collaborations between musicians to the next level.
You can meet thousands of musicians, songwriters, and instrumentalists. And make songs together using the online DAW. You can also use BandLab to collaborate with your band members worldwide.
BandLab offers a recording studio as an app for iOS and Android devices. Moreover, they have a Desktop Assistant.
BandLab's unlimited storage space, projects, and collaborations make it one of the best collaborative music production apps. These features and more are available to musicians at no charge.
Features
10,000 royalty-free loops
200+ free MIDI-compatible virtual instruments
Full version history
Import/record live audio
Video sharing, messaging, and discovery
LANDR
LANDR is an all-in-one platform for musicians to create, collaborate, and distribute music. It's one of the best music collaboration apps because of the LANDR Network.
The LANDR Network is a marketplace and community with over 3 million creators. You can meet, engage with, and build lasting relationships with collaborators worldwide.
Meaningful collaborations on LANDR begin with a Network profile. This is where you highlight your talents and best work. Also, you can tell your story to attract the right collaborator to active or future projects.
LANDR also allows musicians to sell their services through its marketplace. You can also use it to find the best vocalist, cover artist, or mix engineer for your song idea.
Features
Secure file sharing
Video chat
Remote producing
Collaborator feedback
SoundStorming
The social music platform SoundStorming is another of the best collaborative music production apps. Artists and songwriters can connect and collaborate on music projects. And you can market your in-progress tracks to artists worldwide.
SoundStorming can replace the voice recording app on your phone. That way, you eliminate the hassle of transferring your work-in-progress tracks from one app to another. Instead, you can record a melody or riff idea in the SoundStorming app.
If you want to enhance your track, you can share it with SoundStorming's global community. Anyone can layer their lyrics, melodies, and other ideas to make a new song or album. To get started, you can download the free app, which is solely available for iOS devices.
Features
On-the-go music recording with timestamps
Sharing to social media platforms
Cloud storage
Public or private sharing
We Should Write Sometime (WSWS)
If you're a songwriter looking for a co-writer, We Should Write Sometime (WSWS) is the best music collaboration app. Perhaps you've been experiencing songwriter's block and need to boost your creativity. In that case, you can join WSWS and meet other songwriters to create a lyrical masterpiece.
WSWS puts a spin on meeting a co-writer by incorporating matchmaking technology unique to dating apps. By swiping through profiles, you can find the best co-writer in WSWS's vast network of songwriters.
You can view other artists' genre styles, skills, and the instruments they play with one swipe. That way, you can discover a co-writer who will make the collaborative process seamless.
WSWS has over 6,000 active songwriters, and more than 8,000 connections have been built through the app. In addition, the app is available in Australia, Canada, Israel, the US, and the UK. And it's free to download on iOS and Android devices.
Features
Geolocation technology
In-app messaging
Linking to socials and music streaming platforms
Pro-tier for verified professional songwriters
ProCollabs
ProCollabs is a digital music collaboration platform that gives you access to a vast network of songwriters, audio engineers, and musicians. You can connect with talented people in the music industry based anywhere in the world. And collaborate on writing or producing a musical project.
Community is at the core of ProCollabs, so it's one of the best collaborative music production apps to find like-minded artists. Producers can find musicians to contribute to their projects. And musicians can find a vocalist, guitarist, or lyricist.
If you need direction with your music, you can find a mentor on ProCollabs. You can also sell your musical talents to project owners and songwriters.
ProCollabs protects whatever you create on the platform with audio watermarking. Songs will also get a pre-cleared creative commons license.
Four membership packages are available for ProCollabs: Free, Silver, Gold, and Platinum. The latter three are paid, offering benefits like additional storage space and account verification.
Features
Collaboration project management
Member forum
Live chat
Collaborator split sheets
Media library (original audio and cover art)
Soundtrap
If you're searching for an online studio that makes recording, editing, and collaborating with other artists more accessible, meet Soundtrap. The platform allows you to start a music project on any device and store whatever you create in the cloud.
Soundtrap is another of the best music collaboration apps because it has several valuable features for musicians. While you can't connect with other musicians worldwide, you can create music with bandmates from other countries.
You can use Soundtrap's Auto-Tune® feature to alter your voice recordings. Also, you can invite anyone from different social media platforms to collaborate on a session by sharing a link with them.
Soundtrap offers free membership and five paid plans. With a paid plan, you'll receive additional loops, instruments and sounds, Antares Auto-Tune®, and more.
Features
Beat, loop, and instrument library
Audio editing
Amplifier
Pan and filters
Beatmaker
Bounce Boss
Bounce Boss is a cloud-based service and one of the best music collaboration apps for file sharing and tracking audio projects. It's built for seamless collaboration between managers, engineers, musicians, and producers.
The platform gives you a collaboration workspace where you can view files and comments on a song. You can also monitor progress with an audio project and level match all tracks to make accurate and informed decisions. Collaborators can also stream audio in lossless quality or playback in MP3 320 kbps.
In addition, Bounce Boss allows you to organize all aspects of an audio project. You can group versions, mixes, and reference tracks in folders. Besides keeping projects organized, you can receive detailed feedback on different track parts via comments.
Bounce Boss has a 30-day trial. Alternatively, you can purchase a Lite, Standard, or Pro plan, of which the pricing depends on how much storage you want.
Features
Audio file sharing
Feedback tracking
Audio file version history
Automated email notifications
Project exporting
Vocalizr
It can be challenging to find a decent vocalist. That's where Vocalizr comes in. Vocalizr is a two-sided marketplace that connects vocalists and people seeking to hire them.
All you have to do is publish a project, and the platform will work its magic. It makes auditioning vocalists and finding the best match for your audio project much more effortless.
Vocalizr is excellent for artists, too, because you can showcase your talents. And there's a possibility that key players in the music industry will discover you.
While you can get a lot of value from Vocalizr's free membership, it offers an Access Pass plan. This will give you more monthly connections, unlimited messages, and exclusive opportunities.
Features
Analytics
Spotify & YouTube integrations
In-platform messaging
The Bottom Line
Sometimes it's not possible to collaborate with other musicians in person. That's why digital platforms are making collaboration and discovery much more manageable, doing away with traditional methods of working together.
Although collaborative music production apps aren't new, more and more artists are using them to meet like-minded people. And some artists rely on them to manage audio projects from the comfort of their home recording studios.
You can find the best music collaboration app for any need you have. If you're looking for a co-writer to help you with the lyrics for a track, consider We Should Write Sometime. Alternatively, if you want to collaborate with the top professionals in the music industry, look into joining the LANDR Network.
Once you've created and polished your track, it's time to get it out into the world. You can get your songs onto music streaming platforms like Spotify and Apple Music independently. Or you can work with a distributor.
Sugo Music Group is a music distributor and publisher with over 35 years of experience working with artists. They can make your tracks available on over 200 music streaming and download platforms. And they can guide you in the right direction to boost your chances of success.