Finding effective and efficient ways to promote your music for Tidal music streaming can be a game changer for your music career. With the right strategy, you can boost your music's discoverability and increase your fan base.
Tidal is one of several music streaming platforms where you can build a loyal fan base. It's available in over 60 countries and features millions of songs from seasoned musicians and emerging artists. Tidal offers various features that make the platform worthwhile for artists. This includes Tidal Rising and an artist royalty program for your Tidal music streaming. By implementing some strategies, you can be successful on Tidal.
The Norwegian-American global streaming platform may not have as large a market share as other DSPs today. However, several artists have found Tidal beneficial for their music careers. These include Chloe x Halle and 21 Savage.
This post discusses strategies to promote your music on Tidal to boost streams and increase your fan base. We'll explore why you should market your music on the platform. And we share tips to ensure your promotional efforts produce results.
Reasons to Promote Your Music on Tidal
Understanding the importance of promoting your music on Tidal is essential. After all, not every platform may be worth the time and effort. In the case of Tidal, you'll want to leverage it for your music career because of everything it has to offer artists.
Tidal operates in over 60 countries and hosts millions of songs for listeners. Several people around the globe favor the platform because of its curated playlists, unlimited skips, and exclusive tracks. In addition, listeners prefer Tidal because it boasts high-quality music formats like MQA (Master Quality Authenticated) and FLAC lossless audio.
These benefits are on the listener side of the platform. For artists like yourself, these are some Tidal features catered to you.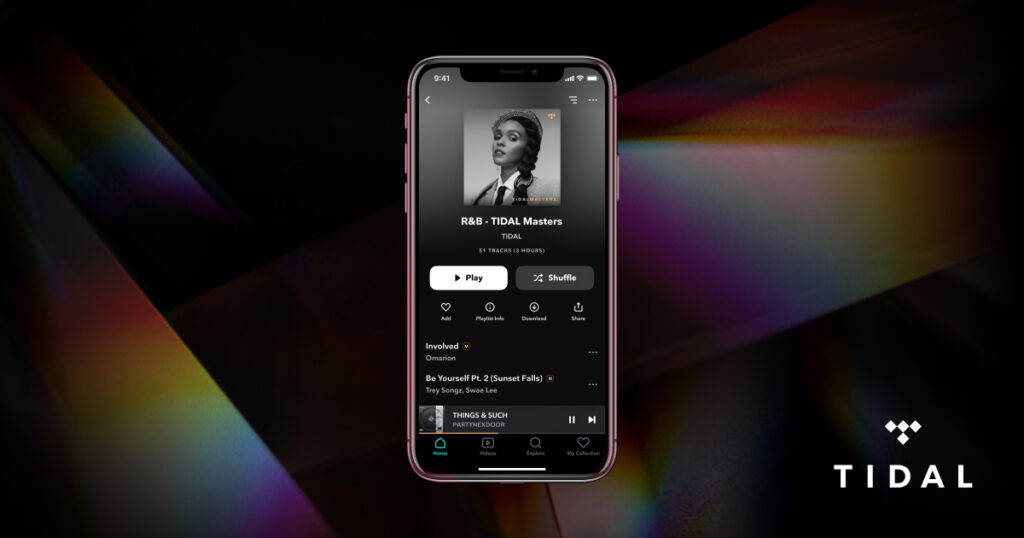 Tidal X
There are several ways to connect with fans on Tidal. One of those is a program called Tidal X. With this program, fans can bond with artists on a platform that enhances engagement. They can attend special live shows, get show tickets, and attend artist meet and greets.
Direct Artist Payout Program
Tidal is regarded as one of the top platforms that pay the highest royalties in the music industry. This is because they make payouts from HiFi Plus subscribers who stream your music the most. Therefore, you can create a new payment stream with their Direct Artist Payout Program.
Tidal Originals
Another way artists on Tidal connect with fans on a deeper level is through Tidal Originals. This feature allows you to forge a bond with listeners through one-of-a-kind events, exclusive interview series, and documentaries.
Tidal Rising
Tidal Rising is one of Tidal's top editorial features. It's where listeners discover emerging artists and get on board with their music by becoming fans.
A Boogie wit da Hoodie, Mr. Eazi, and Alessia Cara are some artists who found success from Tidal Rising. And you can too. Think of Tidal Rising as a launch pad for your career. It's similar to a major label signing you.
As a member of the Tidal Rising program, you receive:
Homepage features for every track, album, and video you release and all playlist and editorial content pieces you're featured in
Free tour support, including van rentals and accommodation
Styling by professionals for your hair, makeup, and wardrobe
A PR team to create strategies around new music releases
Media training to ensure you're up to scratch for press interviews
Tidal Music Streaming Promotion Strategies
Before implementing strategies to promote your music on Tidal, ensure your tracks are on the platform. If your tracks are available on Tidal, you can move on to the strategies we explore in detail below.
Artists who don't have their music on Tidal will need to work with a music distributor. Therefore, finding one should be your first priority.
Sugo Music Group is a music distributor that can get your music onto over 200 music streaming and download services. This includes Tidal. They have worked with several artists for over 35 years to ensure listeners worldwide hear their music.
Once your music is available to fans and listeners, it's time to start getting the word out about your tracks. Use the following strategies to promote your music on Tidal and make the most of the platform.
It's rarely enough to have your music on Tidal and expect people to discover you. With the millions of songs available on the platform, it's easy to drown in all the noise. That's why you should market your music on your social media accounts.
Social media is the best place to promote your music. Most people spend their time on Instagram, Facebook, or Twitter. Therefore, it's wise to go where your fans hang out most to make the most of your promotional efforts. If you're still learning the ropes of social media marketing for artists, check out our post for guidance.
Promoting your music may be easier if you've already established your presence on different social media platforms. You have super fans who are already paying attention to your music. And potential fans who might like your sound over time.
All you have to do is take advantage of your audience and draw people to Tidal to listen to your tracks. Here are some ideas to leverage your social media audience:
Share Tweets about your latest single, EP, or album on Tidal
Create an Instagram, Facebook, or Snapchat story with a link to your Tidal profile
Create Instagram or Facebook Reels featuring a snippet of a song exclusively available on Tidal
Share your Tidal songs in musician Facebook groups
Telling your fans and followers that they can stream your music on Tidal is beneficial. You may see an increase in your streams, which can influence your payouts from the platform. It'll also help you build credibility. And you may become visible to more listeners and Tidal's editorial team.
2. Get Featured on a Popular Blog
Music blogs are another avenue to promote your music on Tidal. Getting a feature can boost your streams on the platform. It can also boost your music's discoverability and help you forge a deeper connection with fans.
There are several music bloggers worldwide. Some are renowned, so they may not be as hard to find. There are also budget-friendly bloggers who set fair prices for a blog feature. Therefore, you have several options of bloggers who can help your Tidal tracks gain visibility.
You'll first want to create a list of bloggers you're interested in working with. Find their email, which is typically available on their website, and send them an email. Remember to send a link to your music within the email so they can listen to your tracks.
Besides emailing bloggers, you can also send them a direct message on Instagram or Twitter. Make an inquiry with a link to your track and keep it as professional as possible. You can always include your email address to continue the conversation further off the platform.
If a blogger doesn't reply, send a follow-up message or email after two weeks. Should this not prove fruitful, avoid badgering them. They might get back to you later, so be patient.
3. Collaborate With Other Artists
As you might know, collaboration is the key to increasing your exposure. This is because when you join forces with other artists, you become visible to their audience. With more eyes on your tracks, the chances of success when you promote your music on Tidal increase tenfold.
Collaboration takes several shapes. Sometimes, it's producing a track with an artist you know will blend well with your sound. While in other cases, it can be hopping on an Instagram Live with another musician. Whatever form of collaboration you choose, you'll still receive the benefit of exposure.
When choosing an artist to collaborate with, consider their fan base. You can assess this through their follower counts on social media and music streaming platforms. It'll be ideal to partner with anyone who has a more significant following than you do. That way, you can capture some of their fans who like your content.
It's also wise to go with musicians in your genre for a collaboration. This is especially vital if you're making new music together. That way, your collaborative efforts may be more successful.
4. Work With a Playlist Curating Site
Another way to promote your music on Tidal is by being playlisted through playlist curating websites. Several sites on the internet offer this service. Their purpose is to increase visibility for your music and boost streams on music streaming platforms like Tidal.
In addition, you can increase your following on Tidal. That way, you'll have an already willing audience to listen to your tracks when you release new music. While searching for a playlist curating site, ensure you read reviews to check that they're reputable. Not all playlist curating sites offer a similar service, so be wary of potential fraudsters.
Tips for Promoting Your Music on Tidal
Now that you know the strategies to promote your music on Tidal, you should keep some matters in mind. These ensure your promotional efforts don't go to waste.
1. Have a Strategy to Release Your Music
Artists who thrive on Tidal create a release strategy for their music to keep fans engaged. This entails creating and posting content to maintain momentum for a recent release. Or to keep fans from drifting away while they wait for you to release new music.
Say, for instance, you're working on your debut album. Releasing it may take longer than expected, given the creation, recording, and production process can be lengthy. As a result, keep your fans entertained by:
Releasing singles, which can either be a one-off project or a preview from your album
Creating music videos and live videos that give your fans variety in content
Getting on a popular playlist or creating your own featuring your music and that of other artists
The more sound your strategy, the more buzz you'll drum up around your songs. And when it's time for a major release, you'll have eager fans waiting to listen to your tracks.
2. Study Your Followers
Your follower's habits and interests will help you efficiently promote your music on Tidal. These insights can inform your release strategy and the way you market your tracks.
You can use your social media accounts to understand your followers and get to know them more. Once you better understand your fans, you can tailor your digital marketing strategy to them.
As you strategically market to people who enjoy your music, you could see a spike in your Tidal streams and followers. You may also notice more fans sharing your music online from the platform.
3. Be Persistent and Consistent
Persistence and consistency are two essential traits of successful artists. Some days it'll likely feel like you aren't getting anywhere with your music. This might lead you to second-guess yourself. However, that's part of the journey and not a reason to stop making music.
Instead of burying your head in the sand, recognize how far you've come and preserve. Lean into your doubts, and you'll continue to grow and create amazing music. Your persistence will set you apart from other musicians and keep you in the game longer.
As for being consistent, that ties in with our first tip. Keep posting updates on your social media profiles to keep fans in the know about your music projects. Also, share links to your music on Tidal so people know they can stream it there. The more consistent you are, the higher your chances of remaining relevant.
4. Maintain High-Quality Uploads
Quality is what sets great artists apart from good musicians on Tidal. Therefore, you should ensure the tracks you upload to the platform are of superior quality. If you can't afford to make high-quality music, consider investing in better equipment or working with freelance production houses.
The better your music's quality, the more your marketing efforts on Tidal will pay off. Also, since Tidal is all about high-quality music, your best chance of standing out is by adhering to this standard.
Tidal Music Streaming: Conclusion
Tidal is one of several music streaming platforms on which you can have your music. However, making your tracks available on the platform isn't enough if you want to become a worldwide sensation. You have to put in the work to promote your music and build a loyal fan base.
You can promote your music on Tidal by getting a blog feature and sharing your tracks on your social media accounts. Other ways to market your songs include working with playlist curating websites and collaborating with other artists.