In the article, we will explore the IFPI Global Music Report 2016 and how influential it was for the global music industry as a whole.
The IFPI Global Music Report of 2016 was the early beginnings of a major shift in the music industry for a lot of reasons. While it wasn't that long ago in the big scheme of things, it was a big year that has laid the foundation for what the following years have become, setting some big global music records.
In this article, we are going to be exploring and breaking down this report to not only look at the facts but also assess how far the music industry has evolved in such a short amount of time.
What is the IFPI Global Music Report?
First of all, IFPI stands for the International Federation of the Phonographic Industry. It is a non-profit organization founded in 1993 that backs and represents the recording industry across the world. Each year, it publishes a music report with all the relevant statistics and information regarding this industry. It looks at total revenue, market growth, varying forms of revenue, streaming, downloads, physical purchases and so much more.
Key Statistics
Let's start looking at the IFPI Global Music Report of 2016, by simply viewing some key statistics.
Global revenue increased by 3.2%
By global revenue, we mean the total amount of money that was produced by music, as recorded by the IFPI. While this increase seems small, it holds a big significance.
Digital sales made up 45% of this revenue
Physical sales made up 39%
Streaming revenues increased by over 45%
These are just some of the biggest news that can be found in the report. Now that we've explored the key statistics to come out of the IFPI Global Music Report of 2016, let's talk more about what these statistics mean and what some of the biggest highlights are.
Key Highlights
It seems like in today's day and age, the global music supply is ever increasing. Day in and day out there are newer and better streaming services and outlets for musicians, artists, and writers alike to get their work out to the public. Because of this, 2016 was the first year to see some big shifts in the music industry.
Shift in Primary Revenue Stream
2016 marked the first time ever that digital has become the primary revenue stream for all recorded music. In the past, physical formats had the lead, but as technology continues to evolve and grow, physical formats are becoming less and less popular.
With the help of devices, such as the iPhone, and streaming and downloading formats such as Apple Music, Spotify, and so on, music is becoming more and more accessible around the world. In the old days, you would have to physically go to a music store to buy a CD, or in the even older days Cassette tape, of your favorite band. So, basically, the music stores were in charge of selecting what music would be available for you to purchase.
Because of this, if you lived in Japan, you would probably never hear the likes of the newest country music star from Nashville or an independent singer/songwriter from the East coast. But now, no matter where you live and no matter what your taste is in music, you have much broader access to music in general.
This shift in primary revenue stream marks a big change for the music industry, and we predict that the digital world of music will only continue to grow.
Streaming is on the Rise
From this report, as of 2016, steaming accounts for 43% of the digital revenue stream. This is quite a big percentage! Knowing what we now know about streaming, which is that it is only growing exponentially by the minute, 2016 was starting to show some big leaps.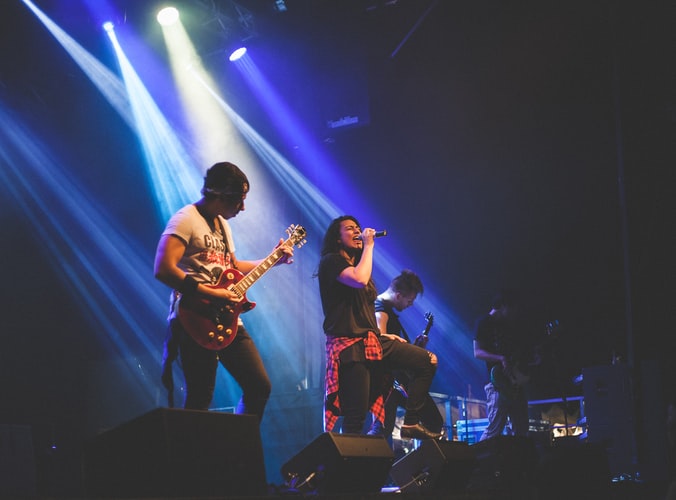 For those that may not be aware yet, streaming is one of the best and most efficient ways to listen to and discover new music. Some allow you to create your own specific playlists for yourself, while others have previously created ones. Other services, like Pandora, operate more similarly to a radio station. Depending on the streaming service, you can pretty much discover any artist from the good ole days to undiscovered newcomers.
While downloads are still doing a pretty solid job in terms of revenue, accounting for approximately 20 percent of the digital revenue stream, streaming is definitely where the future is. Here are some of the most popular streaming services to date…
Spotify
With over 130 million premium, paid subscribers and over 250 million users total, Spotify is one of the top streaming services. Even with unpaid, free, listeners, the music industry is still making money through this service with advertisements.
Apple Music
What was once the epitome of music downloads, Apple Music is making its comeback as a streaming service with about 60 million subscribers to date.
Amazon Music
Amazon Music is a feature that comes with your Amazon Prime account, but there is a premium feature above the most basic service that provides subscribers with even more music availability and options. Amazon Music has about the same amount of users as Apple Music.
Soundcloud
Soundcloud seems to take the reins when it comes to users. It comes in at a whopping 175 million users in their streaming service worldwide! Soundcloud is popular not only for providing a platform for listening to music but also as a platform for artists to get their art out into the world. There have been multiple unsigned artists who started on Soundcloud with a song and passion who have ended up incredibly famous from their humble beginnings.
YouTube Music
Lastly, YouTube has also joined the forces as one of the many streaming services that are available to the public. Touting over 1 billion music users, YouTube is one of the most popular places to watch music videos, etc, for the music industry, but when compared with the other streaming providers, it has a modest 20 million subscribers.
Physical Downloads Continue to Decline
Because of this incredible increase in both popularity and availability of music through streaming services, there is less demand (and need) for people to physically download their music to their computer or device.
First and foremost, streaming is more affordable. Back in the early 2000s when digital music was making its big break, people were still physically downloading music at $0.99 per song to create playlists to either load onto an iPod or even a CD. That just isn't necessary now.
With streaming, you can pay a small monthly fee and you can listen to the songs that you want when you want. You don't have to spend hours crafting the perfect playlist now. Chances are, you can find it out there. You don't have to purchase a whole album just to listen to your favorite song or craft an entire playlist. On top of this, some streaming services are still free, but you'll just have to listen to advertisements, which doesn't phase many.
In Conclusion...
The world of music has drastically changed since its humble beginning. But, even if you look at the last decade, things have made significant changes with the industry going more and more digital. 2016 was a year that got the ball rolling, so to speak, and was a year when you could really start to see this big shift taking place.