Internet music promotion is vital to many artists' success in today's digital age. From marketing tracks on social media to music blog write-ups, there are various ways to get your songs heard online. However, do you know how to leverage music podcasts to gain momentum and visibility in your career?
Incorporating music podcasts into your marketing strategy is essential. Besides increasing your exposure, internet music promotion through podcasts offers an enhanced connection with fans and new revenue streams. Research is crucial to secure a music podcast interview. You should also prepare a compelling bio and press kit for your pitch. And be professional when contacting the podcast host.
From music history and industry analysis to interviews with musicians and live performances, music podcasts offer an array of experiences. As a musician, podcasts allow you to target specific audiences and build a solid online presence. This can lead to increased exposure and success in the music industry.
This post serves as a guide to internet music promotion through podcasts. We'll walk you through the steps to secure a podcast interview and share tips for success.
Let's look at the music podcast market as a whole first.
Understanding the Music Podcast Market
Understanding the music podcast market can make your internet music promotion efforts more effective. According to Sony Music, podcasting is a "key area of creative and business development."
Sony Music is amongst several music industry leaders that recognize the power of podcasts for musicians. Others include Atlantic Records, Universal Music, Spotify, and Pandora.
The music podcast market is rapidly growing, with a wide range of content offerings for listeners. Moreover, various listeners, including artists, music fans, and industry professionals, enjoy listening to music podcasts.
Some podcasts cover specific niche genres or subcultures, while others focus on broader topics. You may discover some of these podcasting styles:
Chats with up-and-coming artists
Live performances
Discussions about the history of music
Industry analysis
Furthermore, industry experts or music journalists host some music podcasts, while musicians produce others. Also, much like online music radio stations, podcasts' entry barriers vary.
This means you'll find some podcasts you can get on without much influence. Whereas others will require you to have a considerable fanbase that can't get enough of you and your music.
The Benefits of Podcast Interviews for Musicians
Internet music promotion through podcasts can have a similar effect on your career as radio airplay. By being a guest on a podcast, you can significantly broaden your reach and visibility in the music industry. These are some of the critical benefits of appearing on a podcast as a musician:
Enhance your brand: Podcasts provide a platform to boost your brand and establish yourself as a thought leader in the music industry. By sharing your insights, opinions, and experiences, you can demonstrate your expertise and build a strong reputation as an artist.
Increase exposure: One of the greatest benefits of podcast interviews is more exposure. Some podcasts have large and dedicated audiences. Therefore, being a guest on one can help you reach new listeners who have yet to discover your music.
Build relationships: Appearing on a podcast can help you build relationships with other musicians, industry professionals, and fans. These relationships can be invaluable in helping you network and grow your career.
Boost your online presence: Podcast hosts typically share episodes on various platforms, including social media and other online communities. Therefore, by appearing on a podcast, you can boost your online presence and reach an even wider audience.
Connect with fans: Podcasts provide a unique opportunity to connect with fans on a more personal level. You can share your story, music, and experiences through conversations and interviews intimately and authentically.
Create new revenue streams: Some podcasts offer compensation to their guests, providing a new revenue stream for musicians. Additionally, appearing on a podcast can help you sell more merchandise, secure new gigs, and generate new income opportunities.
Being a podcast guest can benefit your music career in several other ways. Therefore, it's worth considering appearing on podcasts to enhance your internet music promotion strategy.
Steps to Secure a Music Podcast Interview
Music podcasts play a significant role in internet music promotion, helping you spread the word about new releases and upcoming shows. However, you must be strategic about securing an interview, especially if you're an up-and-coming artist.
Your chances of being chosen as a guest increase the more prepared you are. Therefore, you should follow these steps:
Find potential podcasts
Research the hosts and podcasts
Create a contact list
Prepare to send your pitches
Contact the podcast hosts
Let's dive into each of these steps below.
1. Find Potential Podcasts
Securing a music podcast interview as a musician requires research. With so many music podcasts available, finding the right fit for your music and target audience can be overwhelming. However, taking the right approach can increase your chances of landing a successful and meaningful interview.
Start by identifying podcasts that are a right fit for your music. This means finding a podcast that focuses on the genre of music you perform. And has a target audience that's likely to be interested in your music.
You may already have some in mind if you're an avid podcast listener. However, if you don't know where to start, use platforms like Spotify.
Alternatively, check out Podcast Guests. It'll point you toward podcasts actively looking for guests. As a result, you can discover opportunities for podcast interviews with small to medium shows. This is great if you have yet to make a name for yourself in the music industry.
Note down the names of all the potential podcasts you find.
2. Research the Hosts and Podcasts
Once you have a list of potential podcasts, look into the host and the show. This will help you better understand the target audience and the types of musicians they typically feature.
You can do this research by listening to past episodes or reading reviews. Alternatively, check out their social media pages to see the types of topics they cover.
During the research process, you should also learn about the format and style of the podcast. Some podcasts feature live performances, while others focus on interviews and discussions. Knowing the podcast format can help you prepare for pitches, ensuring you present your music in the best possible way.
3. Create a Contact List
Once you have potential podcasts, you'll need to find the host's contact details. Creating a list of contacts will serve as a roadmap for reaching out to the right people. And it'll help you secure an interview that aligns with your musical style and interests.
Go to the podcast's website to find the host's contact details. You can find a podcast website's link in the show notes. Read them to see if the podcast has a site, follow the link, and then visit the contact page. Some may have a contact form instead of an email address, so take note of that.
Alternatively, find the podcast on social media. You can DM the host with a request if the contact details aren't visible. Only mention your interest in appearing on the podcast. Save your bio and details about your latest release for the pitch.
Building relationships with other musicians and industry professionals can also help you build a contact list for potential podcasts. Reach out to musicians who appeared on podcasts and ask for recommendations or introductions.
4. Prepare to Send Your Pitches
The key to internet music promotion through podcasts is making a great pitch. A well-crafted pitch can make all the difference in securing an interview with a podcast host. Therefore, you should prepare your materials before reaching out to the contacts you gathered.
First, write a strong bio and compile or update your press kit. Your bio should highlight your musical background, achievements, and unique qualities. Make sure to include high-quality images, samples of your music, and any relevant links.
Your press kit should also include a comprehensive list of your past performances, releases, and media coverage you received. This information will help the podcast host better understand your music.
Ensure your pitch is short, concise, and compelling. It should explain who you are, what your music is about, and why you would be a great guest for the show.
Also, tailor your pitch to each individual podcast. And highlight why your music would be a good fit for their show and audience.
5. Contact the Podcast Hosts
Now you're ready to send your pitches and get your internet music promotion going. Start working your way through your contact list.
Remember to always use a professional email address and subject line when contacting podcasts. Also, be prepared, professional, and persistent as you send out emails and complete contact forms.
Patience is also essential. Podcast hosts receive many pitches, so it can take time to get a response. Therefore, don't be discouraged if you don't hear back immediately.
If you're still waiting to hear from the podcast host after a week or two, you can follow up with a polite email.
Tips for a Successful Podcast Interview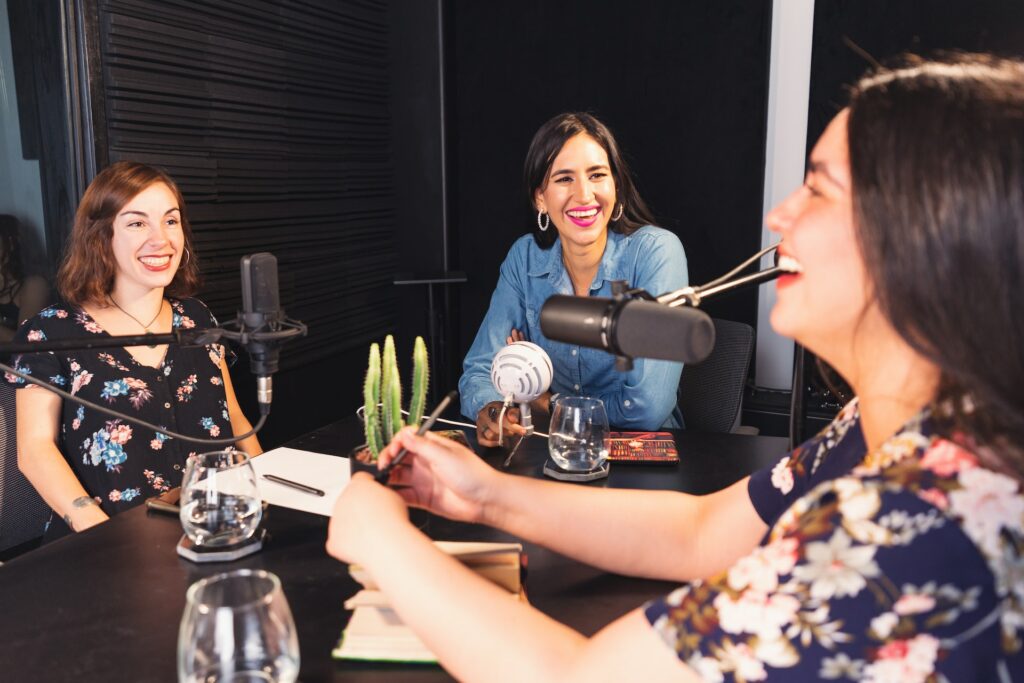 Internet music promotion through podcasts provides a platform for musicians to interact with fans and engage with their audience. However, having a successful interview comes down to several factors. These are some tips to keep in mind once you secure a podcast interview:
Be professional: Be mindful of your language, tone, and behavior. Avoid using profanity, making personal attacks, or discussing controversial topics that could damage your reputation.
Be flexible: Be open to changes in the interview format, and be prepared to adapt to the host's style and tone. Also, be respectful and willing to make adjustments to ensure a successful and enjoyable interview.
Be gracious: Thank the host for their time and the interview opportunity. Follow up with a thank you email or a message on social media. And continue to promote your music and the podcast professionally and respectfully.
Be engaging: The podcast host likely wants to create a relaxed atmosphere to encourage an open dialogue. Therefore, be engaging and respond to their questions naturally and conversationally. Also, be open, honest, and willing to share your experiences and opinions.
Internet Music Promotion: The Bottom Line
Internet music promotion is essential for any musician looking to succeed in today's music industry. It provides a way to reach new audiences and grow a successful career. Therefore, securing a music podcast interview can be a great move in your music career.
The process requires time and effort, from researching potential podcasts to preparing to send music interview pitches. However, with the right approach, musicians can increase their chances of landing an interview and broaden their reach.
Remember to ensure you're reaching out to the right person when pitching podcasts. Also, follow up politely and professionally if you're still waiting for a response within two weeks. This can make a positive impression on podcast hosts and increase your chances of securing an interview.
Navigating the music industry can be daunting and overwhelming. However, it'll be less so with Sugo Music Group backing you. They've been operating in the music industry for over 35 years.
Through their music distribution service, they can make your tracks available on over 200 music streaming and download platforms. They're also experts at music publishing. Reach out to Sugo Music Group today to get your music career off to a great start.