MUSIC PUBLISHING
All your songs should be published. Over the past 38 years, Sugo Music Group has amassed one of the largest music publishing networks for our musicians and music labels. Whether your original song is streamed, downloaded, synchronized, or broadcasted worldwide, we'll make sure it is registered and you receive the songwriting royalties, quality control management, and customer service you deserve when publishing music.
GET STARTED!
MUSIC PUBLISHING FOR SONGWRITERS
TOTAL MUSIC PUBLISHING PORTFOLIO:

Performance rights organizations, mechanical societies, direct licensing, synchronization, YouTube, streaming, record sales, digital performance, TV, film, commercials, radio, and ringtones.
EVERY MUSIC SITE:

We'll put your music onto over 200 streaming and download services around the world—the most by any music distributor.
WE LISTEN:

Our A&R team will listen to every song you submit. This helps us better understand your artwork and how to get it placed throughout the world.
NO SET-UP FEES:

There are no registration and set-up costs for our music publishing
MUSIC PUBLISHING: OUR PARTNERS WORLDWIDE!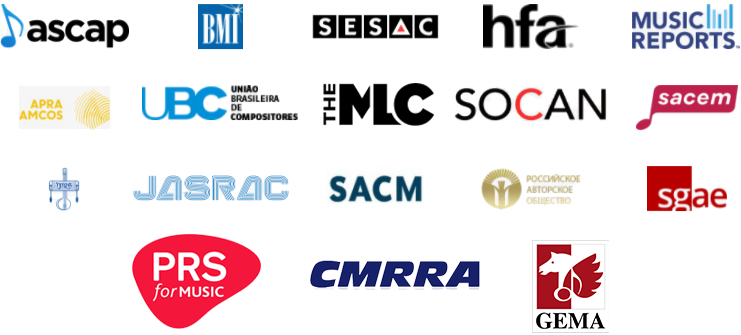 MUSIC PUBLISHING: YOUR PORTFOLIO OF SERVICES!
Your MUSIC PUBLISHING Deal: If you do not have a music publisher, choose our Music Publishing Administration service and get your songs published worldwide. CLICK HERE.
Your CO-MUSIC PUBLISHING Deal: If you are the music publisher for your songs, choose our Co-Music Publishing Administration service, and we'll get your songs published worldwide. CLICK HERE.
MUSIC PUBLISHING: THE BIG THREE!
Performance Rights Royalties: Your performance rights royalties are generated from public airings of a recorded version of your song from several sources: digital streaming channels, radio, television, live concerts, and programmed music services. Depending on the type of performance, you can receive a Performance Rights royalty.
Mechanical Royalties: Mechanical royalties are generated with every stream of your song on digital music service providers (DSPs like services like Apple Music and Spotify). These royalties are collected by your music publisher on your behalf, and a royalty is paid to the songwriter.
Synchronization Royalties: Synchronization Royalties are generated when your song is licensed for advertisements, television, film, and videos (DSPs like YouTube and Vevo).
SUCCESS STORIES ABOUT MUSIC PUBLISHING WITH SUGO MUSIC GROUP