[ffb_param route="o gen text"]
Viral Music Promotion: In today's competitive music industry, it's essential to know the ins and outs of how to release your music to the public. Releasing an album or song can be a complex process, but it's a rewarding one when done correctly.
When looking to release your music, it's essential to have a comprehensive strategy and schedule set out beforehand. Budget, album artwork, music format, and distribution channels must be thoroughly considered. And you must give yourself the time you need to prepare and promote before the official release date. What you do after the release date is equally important.
If you're preparing for your very first release, you should know that the process of preparation takes time. Writing and recording your music is only half the battle. Releasing and promoting it can be a challenge, and many steps are involved.
Should you plan to release your music independently, you'll have to deal with marketing, press releases, and networking. It's a broad set of skills required, and it is not a task for the faint-hearted.
But rolling out your release will be far easier with a well-thought-out plan in place. So, let's examine how to formulate your strategy and prepare to release your music successfully.
Top Tips on How to Release Your Music
Pre-release
Viral Music Promotion: Draw Up a Plan!
As mentioned, a sound strategy is integral if you want to release your music without any issues. And this strategy should detail how and when you will roll out the release of your album or song.
Try to be as thorough as possible when working out your plan. Drawing up an estimated timeline and comprehensive checklist will help you stay on track. And you must break down all the steps involved to ensure you don't miss anything.
When putting your timeline together, think about the possible date and even the time of your release. Consider who your audience is and when might be the best time to launch your new song or album.
And, if your music carries a specific theme, this should play a part in deciding your official release date. For example, perhaps your music has a summer theme or is ideal for dancing and parties. In this instance, it would be best to release your music at the start of the summer season.
There are other key elements you must factor in before setting the wheels in motion for your release. And these should all be listed in your detailed release strategy. So, next, we'll discuss some of the crucial aspects to bear in mind as you plan your release.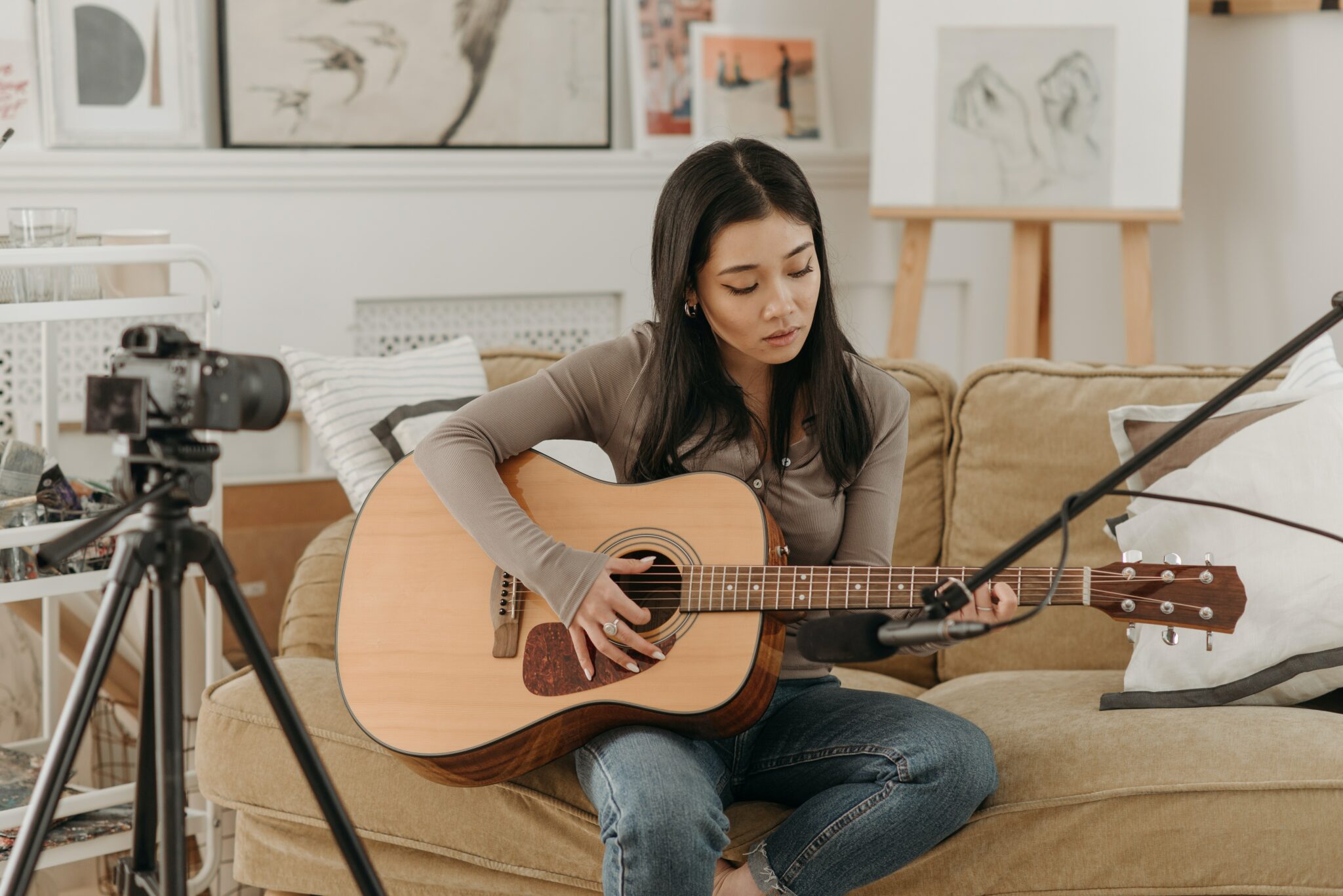 Viral Music Promotion: Set a Budget! 
Knowing how much you have available to spend is vital to the success of your release. As is the task of keeping track of your spending as you execute the plan. There's so much you can do to boost your success rate when you have a budget to work with.
It's important to note that a great deal of your budget will be spent on promoting your new song or album. So, bear this in mind when allocating funds for other expenses.
That said, it's still possible to release your music successfully with little to no budget. It will just require more work on your part. But this should all be taken into account when strategizing.
Viral Music Promotion: reate Album Artwork!
One of the first things you'll need to plan is the album artwork. Your artwork will be released with your music, so it must be ready to go as soon as possible.
There are various ways to approach the artwork. You could have professional photos of the band or commission a local artist to create something unique. However, these options could be costly, and alternatives are available to you.
An easy and inexpensive approach could be to use an online image editing and design platform to create your artwork. Canva is very user-friendly and provides multiple templates for the album artwork.
You could also source royalty-free images through free platforms such as Pexels and Pixabay to use in your artwork. You could incorporate beautiful photos to create something eye-catching and unique.
Another option might be to run a contest amongst your fans, allowing them to submit artwork for the release. The artist that creates the chosen artwork could receive a prize comprising merchandise and music. They would also gain a great deal of recognition when you release your music.
Bear in mind that your album artwork should conform to the parameters set out by the various streaming and download platforms. Supplying an image that's 3000 x 3000 pixels in size would be ideal for most media.
Viral Music Promotion: Prep Your Music!
You might know that streaming and download platforms require your music in a specific format. And this required format can be different from service to service. For instance, some might request WAV files, while others will operate using MP3s only.
Therefore, it's essential that you determine the different formats you'll require and prepare your music accordingly. If you're unsure about the various formats required, you should speak to your distributor.
Viral Music Promotion: Find a Music Distributor!
Finding a good music distributor to work with is possibly the most critical step when preparing to release your music. Your choice of music distributor can make or break your release. So, choosing a reputable distribution company is vital to getting your music to all the proper channels on time. 
Some of the essential qualities you should look for in a good music distributor are as follows: 
Reliability: Make sure your distributor has a proven track record of delivering what they promise.
Trustworthiness: Finding an experienced distributor is a good idea. And if you can access any reviews and testimonials about the company and their services, even better.
Easy Distribution: Today, you need to reach a myriad of platforms when distributing your music. And the less complicated the process, the less time it will take you to release your album or song. So, find a distributor that streamlines the process for you as much as possible.
Vast Network: It's also essential that the service you select has an extensive distribution network. And you much ensure that they at least distribute to all the major platforms.
Sugo Music Group is a seasoned music distribution company and one you could consider working with. They've worked closely with numerous musicians over their 35 years in the industry. And they currently distribute to over 200 streaming and download platforms in 180 countries.
Their distribution service will get your music to all major streaming, download, and social media platforms. You'll also receive radio airplay, in-store broadcasting licenses, and synchronization of your music for use in film and television.
Sugo Music Group can also assist with publishing, licensing, and monetizing your songs.
Viral Music Promotion: Schedule Your Release Date!
You should work with your distributor to set up a date and time to release your music. This is something you can set up well ahead of time to ensure there's no delay on the release date.
Talk to your distributor about how long it takes to distribute your music to all the major platforms. And it may be helpful to discuss when the various platforms release their music. You can use this information to formulate a more accurate timeline and plan accordingly.
You'll be asked to provide details related to you or your band and the music. And these details will be distributed to the various platforms and channels with the music.
So, you must provide as much detail as possible regarding the music and those who contributed to it. Doing this will ensure that everyone involved receives the recognition and royalties they deserve for working on the project.
Viral Music Promotion: Update Your Profiles & Press Kit!
Perhaps you've released music in the past. In that case, you may already have an artist profile on many streaming and download platforms. If not, you should take the time to create profiles on these platforms before the release date.
Make sure that you're the profile owner and update any information related to you or your band and the music.
You should also update your electronic press kit (EPK) to reflect information about your new release. If you don't have an EPK, you should create one as soon as possible as it's a vital PR tool for musicians.
Once updated, send your EPK out to your PR mailing list. This should include magazines, news channels, radio stations, tv stations, blog sites, podcasts, and agents that could promote your music.
Viral Music Promotion: Promote Your Release! 
Apart from sending out your EPK, you'll need to put time into creating some hype before you release your music. If at all possible, you should set aside some funds for social media pay-per-click (PPC) advertising. 
Social media channels such as Facebook, Instagram, TikTok, and YouTube offer a fantastic platform for promotion. And you must be active on these channels before your release. The more you post, the better your chances of being discovered on the platform.
A few weeks before you release your music, start letting your followers know about the new song or album. Create some hype by posting about it daily and reminding them of the release date.
You could post behind-the-scenes video footage or videos of you or the band members talking about the songs. It may also be to your advantage to initiate a contest amongst your fans leading up to the release.
Promoting your album or song release without paying for advertising is possible. This can be achieved by giving yourself enough time to build an audience and posting regularly. You could run smaller contests or challenges through TikTok leading up to the big day to encourage engagement.
Don't forget that you can set up a video relating to your new song or album to premiere on a future date through YouTube. This could help create hype and serve as a reminder of the release date for fans.
Merchandise plays a crucial part in marketing your release. It can even be used for giveaways leading up to the release date. Irrespective, creating merchandise related to your new music is a great promotional tactic.
Release Day
The day your music is released, you must share links to the new music far and wide. You should send these to your entire mailing list, encouraging them to support you by streaming or downloading the music.
You should also spend time on social media on this day. Fans who've been eager to hear your music will likely be commenting or asking questions after hearing the new release. And you or a bandmate must respond to as many of those comments as possible.
Perhaps you have the budget for social media advertising. In that case, it's advisable to increase your bid amount for the day of release. In fact, you should allocate the bulk of your budget for the release day and a few days after that. This could help to keep the momentum going.
Hosting a launch party is a great way to create excitement when you release your music. Inviting a few journalists or critics could be to your advantage. And it's definitely a good idea to include a few agents and labels on the guest list.
Another way to get your music out there and heard is to contact playlist curators. These individuals put playlists together recommending music on major platforms such as Spotify and Apple Music. Speak to as many curators as you can to get your new music featured on a playlist within your genre.
Post-release
After you release your music, it's essential to continue to share links to the new release. It's also crucial that you remain active on social media. Posting content regularly keeps your fans engaged and increases your chances of gaining new fans.
This is also a great time to check in with the media companies and individuals on your PR mailing list. Send them a follow-up email to let them know that your album or song is available to stream or download. And send them a link to the music to make it easier for them to find.
Don't forget to thank those who publish a feature on you or your band or review your release. And let everyone know that you are available to do interviews. Many media companies, podcasts, YouTubers, etc., are on the hunt for new content, so they may welcome the chance.
Getting out on the road straight after you release your music is a great way to promote it. Even if you just line up a few gigs for you or your band in your city or surrounding areas. The more opportunity you have to play your new music for a live audience, the better.
Conclusion
Don't forget to ensure that your music is published and licensed correctly to ensure that royalties are paid to all parties concerned. Sugo Music Group can assist with this as well, and it may be a good idea to contact their experts for advice in this department.
If this is your very first release, it's best to start by releasing a single before you launch a full album. A single will be less costly to make, distribute, release, and promote. This way, you can get a good feel for the process and gauge your audience's response.
Releasing a song or album is not an easy task. There's a great deal of work involved. But with a solid strategy in place, you should release your music successfully if you stick to the plan.