[ffb_param route="o gen text"]
Bandcamp Artists: Music streaming platforms are ideal for building your listenership, but how do you promote your music on Bandcamp? The platform markets itself as a direct-to-fan store and community for fans that puts artists first. Whether you're a budding artist or a seasoned musician, it's free to use. 
Bandcamp has been around for years, but that doesn't mean the music service is a relic. In fact, the opposite is true. You'll find several musicians promoting their music on Bandcamp today. This is because the platform has various features that help artists make a name for themselves and be discovered by fans. These features include Bandcamp Live, Bandcamp Daily, and follower messaging. 
The platform brings more to the table for musicians than most music streaming and downloading platforms. In fact, it outshines many of the mainstream music services you may use, such as Amazon Music and Apple Music. And it could elevate your music career to unimaginable levels. 
This post will tell you why the platform is worth it for musicians. We'll also look at various ways to promote your music on Bandcamp. 
Bandcamp Artists: Why is Bandcamp Ideal for Music Promotion? 
Perhaps your music is already available on Apple Music and/or Spotify. As such, you may be wondering why you should give Bandcamp a chance. We get that not every musician has an unlimited amount of time to spend on every social media platform. Therefore, let's explore why Bandcamp makes a great addition to an artist's digital marketing strategy.
To kick things off, Bandcamp has been around for over a decade. Since its formation in 2007, several musicians like Kamasi Washington and Sufjan Stevens have made a home on the platform. Record labels like Stones Throw, 4AD, and Sub Pop also utilize it.
Additionally, Bandcamp is free to use. It also boasts a simple sign-up process that you can complete in less than five minutes.
Once you sign up for Bandcamp, the fun begins. You'll have access to a fully customizable page where you can add all the information you like about yourself or your band.
In addition, you can upload tracks and albums with custom cover art. And you can sell your music and merch directly from your page. Or you can make tracks available for free so your target audience can listen to them and garner interest.
Bandcamp has a vast network of millions of music enthusiasts. It gets your music in front of more potential fans than many other music services. Therefore, the likelihood of new fans discovering your tracks increases tenfold when you promote your music on Bandcamp.
As you probably know, forming a bond with the people who listen to your music can benefit your success. You can achieve this by connecting directly with fans through Bandcamp's live streaming and messaging tools.
Now that you know why Bandcamp is worth the bet, let's look at the features available to artists.
Features
Learn how to promote music on Bandcamp: For a free service, Bandcamp is packed with several features that can help you elevate your music career. What's more, the platform is constantly evolving with the times.
For instance, it recently introduced commission-free earnings for album and merch sales for one day every month. Below are some Bandcamp aspects you can leverage for effective music promotion.
Bandcamp Artists Live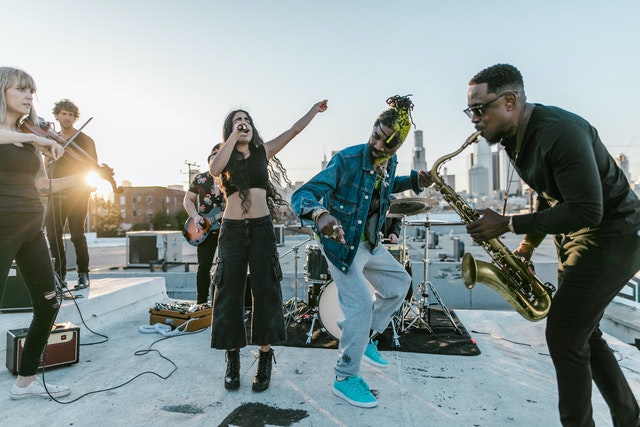 Hosting live streams is a strategy we often recommend to artists for music promotion on social media. This is because it's one of the easiest ways to capture the attention of fans and bond with them.
Bandcamp has a live streaming service called Bandcamp Live. This feature puts a unique twist on what you'd find on platforms like Facebook, Instagram, and Twitch.
For one, you can promote and sell your music during a live stream on Bandcamp. Fans can also send you gifts while you're live streaming.
In addition, musicians can choose to make a live stream free or ticketed. Therefore, you can reap many benefits when promoting your music on Bandcamp with a live stream.
Bandcamp automatically sends invites to your followers when you announce a live stream event. They also list your live event on the Live calendar, which they promote across the website.
This allows non-followers to discover your show. If any of them RSVP or buy tickets, they'll be added to your list of followers. They'll then receive notifications about all your future events and releases.
Since this feature's release, several artists have taken advantage of it. Deerhoof was the first band to create a free Bandcamp live event for their album launch. Children of Zeus also used the feature for an album release event.
Fan Subscriptions
Subscriptions are another useful Bandcamp feature for musicians. It allows fans to opt into paying a monthly or annual fee to access:
Releases from your back catalog
Tracks or albums you label as subscriber-only
Instant streaming or downloading of your new music
Messages, photos, and videos sent to the subscriber community
Automated Fan Notifications
Bandcamp automatically sends a notification to their followers whenever artists release new music or merch. This isn't merely a message that appears in their notifications. Fans also receive an email notification.
Additionally, you can add a personalized message for the notification. Bandcamp also helps get the word out through its tag pages, fan collections, and browsing tools.
Bandcamp Artists: Real-time Analytics
Bandcamp also offers musicians real-time statistics about their music, listeners, and more. You'll have access to information such as:
Your current music embeds
Users linking to you
Search terms attracting fans
Popular and least popular tracks
Sales from social media
With this feedback, you'll know whether you're doing things right or if there's room for improvement. You can then refine your music promotion efforts according to the data you receive.
Direct to Fan Messaging
The built-in messaging tool on Bandcamp makes it possible to engage directly with fans. This way, you can keep followers in the loop about your music endeavors, including album releases and events. Messages you send to fans will go directly to both their Bandcamp inbox and email address.
Therefore, you can think of your Bandcamp followers as a mailing list. Every time someone follows you on the platform, they also opt-in to join your mailing list.
You can access your mailing list in your profile's tools section. And you can export this list at any time.
Bandcamp Pro
Bandcamp also offers Pro features for a fee. When you have a Pro account, you'll receive these additional benefits:
Messaging fans with geographic targeting
A custom domain name
Google Analytics integration
Streaming to a private audience
Batch uploads
Bandcamp Artists: How to Promote Your Music!
Bandcamp's various features present several avenues for music promotion on the platform. Whether you list your track on your profile or live stream an event, there are many opportunities for fan discovery. Let's look at the different ways you can promote your music on Bandcamp.
1. Bandcamp Artists: Customizing Tracks and Albums
As you set up your Bandcamp profile, you'll upload your music onto the platform. And your songs and albums will appear on your profile. As a result, anyone who visits your page can stream or purchase your music directly from the platform.
You must add as many details as possible to your music uploads. That way, it'll be easier to promote your music on Bandcamp. You can customize a song or album by adding:
Custom art
A description
Videos or photos
Tags
Liner notes
These aspects allow you to reach more users on the platform, get discovered, and increase your fanbase. Pay attention to the following to make the most of your music promotion efforts.
Tags
Tags enable you to expand your reach on the platform. Adding as many genres or location tags to your music as possible is best.
This way, users will discover your songs whenever they browse one of the Bandcamp tag pages. Bandcamp's feed also suggests songs to users based on the genres they like and their location.
Recommended Albums
The recommended albums feature is one of the best ways to promote your music on Bandcamp. This is because it boosts your music's discoverability on the platform.
This aspect isn't much different from the "Fans Also Like' page on other music streaming platforms. However, you have complete control over setting recommendations.
Recommending fellow Bandcamp artists' albums is meant to create a snowball effect. This means when you recommend an artist, there's a good chance they'll return the favor. As such, the number of people seeing and listening to your music will increase.
Lyrics
Lyrics are an essential part of any song. That's why you should consider adding them to your Bandcamp song or album pages, where possible.
You can attach lyrics to any track you upload on Bandcamp. When you do, make sure they're accurate and proofread.
Lyrics allow fans to engage with a track while listening to it. They may help them form a deeper connection with you and your music.
In addition, by adding your lyrics to a track, you have complete control over what people find in Google search results. It'll also be helpful if anyone only hears a part of your song and searches for some of the lyrics online. They may then discover your Bandcamp page and your other tracks.
2. Bandcamp Artists: Live Stream a Performance or Listening Party
Another way to promote your music on Bandcamp is by leveraging the live stream feature. As mentioned earlier in this post, Bandcamp Live offers musicians various benefits. This includes promoting and selling merch during the live stream and building a following through RSVPs.
You could also set up a listening party for your album launch. Or you could host a live performance of the tracks from your latest album. Think of creative ways to use this feature to engage with your followers and boost discovery on the platform.
Remember that you can make your live streams free or ticketed. While most musicians may not opt for hosting a free event, it can be beneficial. This is especially true if people aren't familiar with your music yet.
Potential fans may be more willing to attend your free event to get a feel for your music. And if they like what they hear, they might purchase your album or merch. Even if they don't make a purchase during the event, they'll be added to your followers. This way, you can leverage the tips on this post to turn them into genuine fans.
3.   Bandcamp Artists: Engage With Your Followers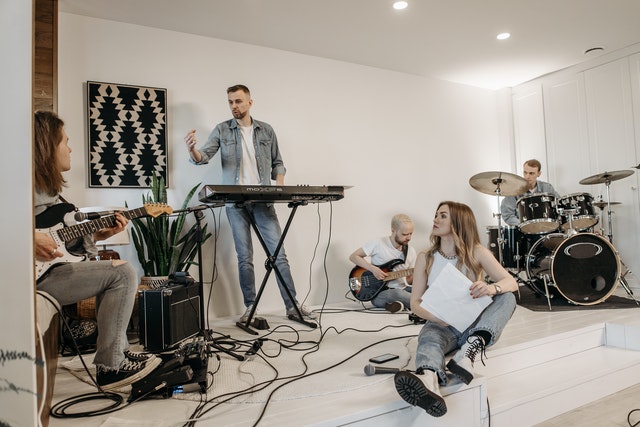 Having a passive relationship with your followers may not do you any favors on Bandcamp. Therefore, you should actively engage with them as often as possible.
That way, whenever you promote your music on Bandcamp, they'll be more receptive to your efforts. Here are some easy ways to engage with fans:
Provide updates and share behind-the-scenes footage while on tour
Thank them as often as possible
Give special offers to those who exceed a certain spending amount
Share your excitement about your forthcoming album via message
Give fans a peek into the creative process as you write and record music
Talking to your fans often and keeping them in the loop can pay off. It can create a buzz before your album launch and during your music tour. In addition, it signals to fans that you care about their support as much as they value your music.
4. Bandcamp Artists: Submit Your Music to Bandcamp Daily
Bandcamp Daily is an editorial publication hosted on Bandcamp's website. It issues interviews and conversations with Bandcamp artists, whether they're established musicians or budding acts. Users can read the articles and discover more music on the platform that way.
Given Bandcamp Daily's reach, it's another excellent way to promote your music on Bandcamp. It will grow your listenership and allow you to tell your story.
All Bandcamp musicians can submit their music to the publication before the release date. The publication requires artists to include a story about their album or song with their submission. The best approach is to write something genuine and heartfelt.
To increase your chances of having your music featured in Bandcamp Daily, ensure you adhere to Bandcamp's guidelines for artists. By following their best practices, you could receive heaps of positive feedback.
5. Bandcamp Artists: Create Download Cards With Track/Album Codes
Another way to promote your music on Bandcamp is by leveraging track and album codes. This tool is available to all Bandcamp musicians.
It involves generating an album or song code that acts like a voucher. Fans with a code have access to unlimited streaming of the album or song through the Bandcamp App. They can also execute high-quality downloads of the music they have access to.
An idea is to incorporate generated codes on download cards and give them away at shows to promote your music.
Music Promotion For Bandcamp Artists: Conclusion
Bandcamp is often promoted as the ideal platform for artists to increase their reach and revenue. However, it also gives artists a space to build a loyal fanbase and promote their music.
The platform is ideal if you're looking to tap into the market of listeners who aren't subscribed to Spotify or Apple Music. Thanks to its varied features, you can promote your music and reap several benefits.
To promote your music on Bandcamp, ensure you add tags, liner notes, and recommended albums to your page. Also, use the live stream feature for a listening party or performance. It's also worth trying your luck with their editorial publication, Bandcamp Daily.
Remember, while uploading your music onto Bandcamp is free, they deduct a commission from your sales. The platform takes 15% of digital music sales and 10% of merch sales.
Learning how to promote music on Bandcamp is a significant step to take in your music career. Once you've mastered the platform, you should consider releasing your music on other digital storefronts like Apple Music and Spotify.
A professional music distributor like Sugo Music Group can help you streamline the process of getting your music onto these platforms. They've been in the music distribution and publishing business for over three decades. In addition, their experts have helped elevate the careers of many musicians. Contact Sugo Music Group today if you're ready to boost your music's discoverability across the web.