Music Marketing Strategies: If you're an independent musician or band, getting your music heard by the masses can be challenging. You may have tried promoting your music on social media or sending out press releases. But you'll have a better chance of seeing the results you want if you promote your music on YouTube.
YouTube is one of the most popular websites on the internet and the second most popular social media network. That's why it's an excellent platform to develop your music marketing strategies for promotions. Setting up your account and channel correctly will get you off to a good start. After that, it's all about posting quality video content, leveraging the power of hashtags, and engaging with your audience.
This article will discuss how to promote your music on YouTube. And will show you why it's a great marketing tool for independent musicians and bands.
Music Marketing Strategies: Why You Should Promote Your Music on YouTube
First, let's discuss the benefits of YouTube as a marketing tool. YouTube is an excellent platform for promoting music because it allows you to reach a broad audience with your videos. YouTube is a social media platform with an algorithm that supports relevant content. It's also a search engine, like Google but for videos.
As such, you can use YouTube to build a following for your music and connect with fans worldwide. It's also a fantastic way to reach out to other musicians and collaborate on projects.
The platform has approximately 2 billion daily active users. That's a ton of people that you could potentially reach with your music. It should also be noted that Google's algorithm favors YouTube video results for a specific keyword or keyphrase.
In other words, say someone uses Google to search for a specific keyword related to you or your music. In that case, there's a good chance one of your YouTube videos will show up in the search results.
YouTube's algorithm allows new accounts to gain exposure with their videos within the platform itself. It does so by recommending similar content to what users are already watching.
Therefore, perhaps someone enjoys watching music videos or interviews of a musician or band within your genre. In this instance, one of your videos could potentially be featured as a recommendation on their home page.
What to Do Before you Promote Your Music on YouTube
We've had a look at the benefits of YouTube as a marketing tool and why it's an ideal platform for promoting music. Now let's talk about setting up your YouTube account as a musician or band.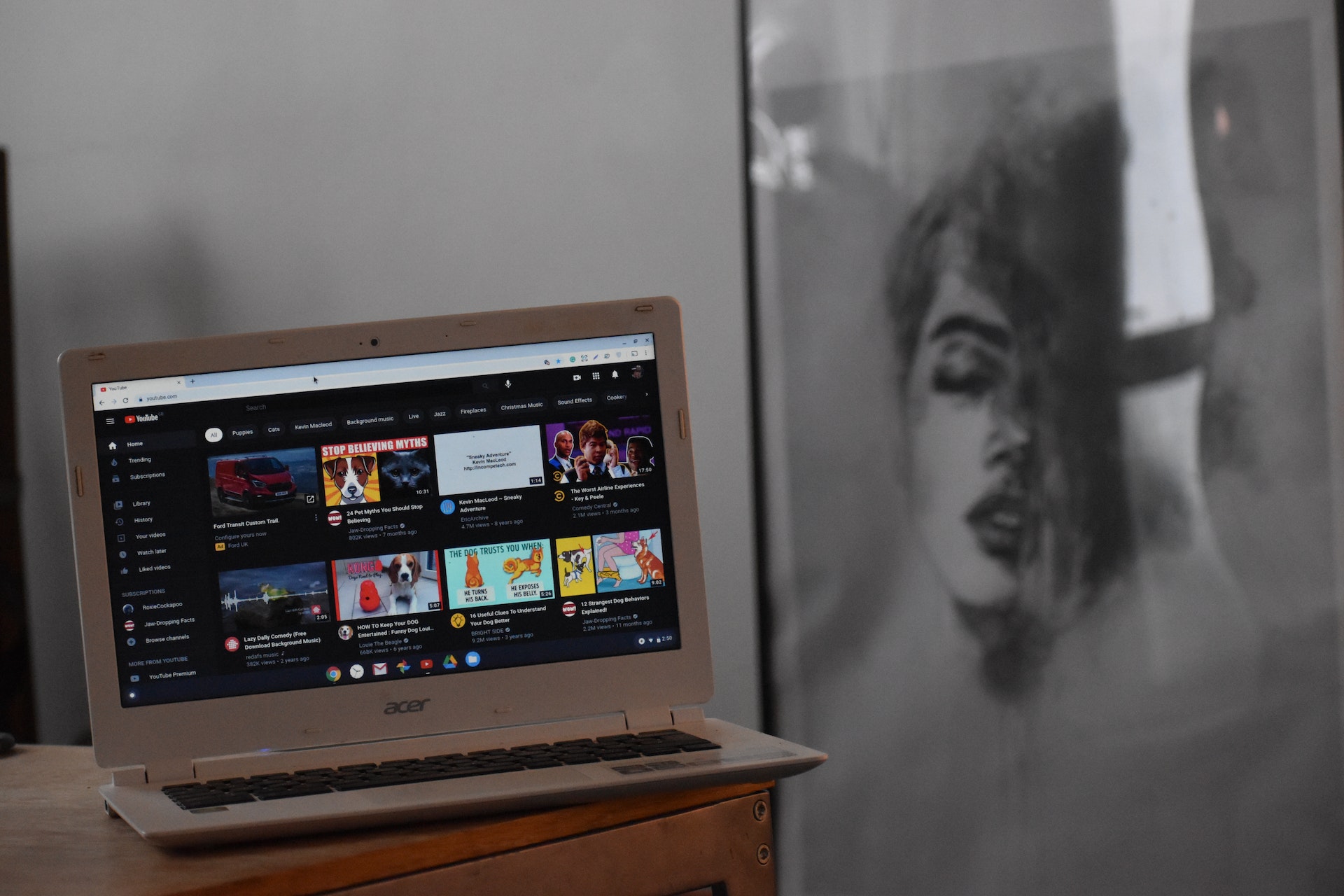 Setting Up Your YouTube Channel for Your Music
To set up your YouTube account, you'll need to create a Google account. Once you have a Google account, you can sign into YouTube and start creating your channel.
When creating your channel, be sure to include information about your music, such as your genre and influences. And use the "About" section of your profile to provide a brief and intriguing bio. Try to add some personality to the bio. And include as much information as you can without overdoing it.
Your "About" page offers an opportunity to let people know who you are and what they can expect from your channel. It's also content that the YouTube algorithm scans when defining what your channel is about. So, be sure to use keywords that your target audience may search for. And don't forget to include links to your website and other social media accounts.
You should also upload a profile picture and banner image for your channel. Bear in mind that the images you add to your YouTube channel should represent you or your band. They should align with your brand image and tell people a little bit about what your music is about.
Music Marketing Strategies: Key Factors to Promote Your Music on YouTube
Once you've created your channel, you can start uploading videos. But you must understand the dynamics of this specific social media platform. And that you have the tools at your disposal to promote your music effectively. This section will deal with all the aspects that must be considered when uploading and promoting your music on YouTube.
Ensure Good Quality Footage and Audio
Any content you upload to your channel must provide the best possible representation of you and your music. Therefore, music videos, live streams, behind-the-scenes content, and anything else you upload must convey a certain level of professionalism.
In other words, you need to create engaging, high-quality videos. And to do that, you must be mindful of where you record your videos and how you approach the process.
Granted, your music videos will likely be planned out and shot to meet certain conceptual objectives. Or you may simply choose to use live performance footage as a music video, which works just as well. Either way, it's advisable to hire a professional to shoot these for you. They will form an essential part of your promotional media.
If you need some ideas on creating a music video, we have a fantastic guide available to assist you.
But for everything you shoot yourself, you should consider elements such as your background and ambient noise. This means you'll need to find a quiet location to shoot with an interesting or uncluttered background. And a good video camera and mic will be a sound investment to help you promote your music on YouTube.
The objective is to ensure that your viewer sticks around and watches until the end of the video. This is something the YouTube algorithm looks for. The more people watch your video from beginning to end, the better its chances of being recommended.
Set Clear Editing Objectives
You should also think about the editing process. This is where you can really add some flair to your videos and make them stand out from the rest. But again, it's worth seeking professional help if you're not confident in your ability to edit footage yourself.
Adding subtitles to your videos will expand your reach as it helps viewers understand the content they're watching. Song lyrics, in particular, are an integral part of your music. So, it's best to include them in the video through subtitles. This will ensure people can understand what you're singing about.
Bear in mind that YouTube favors longer videos. So, try to avoid uploading videos that are too short. If you're struggling to meet this criterion, consider combining multiple shorter videos into one longer video.
This is an excellent way to get around the YouTube algorithm and increase your chances of ranking in searches. The longer the video, the longer someone will potentially watch your video. And watch time is one of the many metrics YouTube's algorithm considers.
Hold onto your shorter videos and apply some light editing to them where necessary. These can be used as "Shorts", which is YouTube's answer to Instagram and Facebook stories. In fact, feel free to reuse these shorts on your other social media platforms for added exposure.
Music Marketing Strategies: Utilize YouTube Annotations and Cards
YouTube annotations and cards are a great way to promote your music on YouTube. Annotations are clickable links that you can add to your videos. They can be used to promote your website, social media accounts, or other videos on your channel.
Cards are similar to annotations, but they're less intrusive and can be used to promote your music on other platforms, such as iTunes or Spotify.
To add annotations to your videos, go to the "Edit Video" section of your YouTube account. Then, select the " Annotations " tab and choose the type of annotation you want to add.
To add cards to your videos, go to the " Cards " tab and select the type of card you want to add. Then, enter the relevant information and choose when you want the card to appear in your video.
Both offer a great way to promote your music on YouTube and drive traffic to your other online platforms.
Create Engaging Thumbnails for your Videos
Before you hit "Upload", you should create an engaging thumbnail for your video to grab attention. This can be done by using bright colors, an eye-catching image, or text that clearly states what the video is about.
Your thumbnail should be of high quality and should accurately represent the content of your video. This will help increase click-through rates and ensure that more people watch your videos.
Whatever you do, don't misrepresent the contents of the video with your thumbnail to get views. That's a surefire way to irritate potential fans and alienate them.
It's tempting to want to dangle the proverbial carrot in front of the viewer to encourage them to click. But it's best to be honest and manage their expectations. This way, they'll be pleased by the end of the video rather than annoyed.
Optimizing Uploads for SEO
When uploading a new video, it's crucial to ensure it's optimized for SEO. This means including relevant keywords in your titles and descriptions. It also means tagging your videos with relevant keywords using hashtags.
You can find a list of relevant keyword ideas using a YouTube keyword tool such as TubeRanker. This will help you find keywords that your target audience is currently searching for.
You mustn't use your chosen keywords excessively as this may look like keyword stuffing to the algorithm. This will also make the description and title challenging to read.
Also, ensure that your keywords are relevant to your video. Using the hashtag "#JustinBieber" to promote your band's thrash metal song will not gain you fans. It's more likely to anger people. And it may even result in your video being reported.
When it comes to your video titles, make sure they're attention-grabbing and to the point. And don't forget to include your name or brand name in the title. The same goes for the video descriptions.
Include a call-to-action in your descriptions to encourage viewers to take the next step. Whether that's subscribing to your channel, buying your music, or attending one of your shows.
And finally, don't forget to include links to your website and social media accounts in the video description. This makes it easy for viewers to find you online and connect with you on other platforms.
Create YouTube Playlists for your Content
Let's say a potential fan finds one of your music videos, and they like what they see and hear. Their next step may be to head on over to your channel to hear some more of your music. But imagine how it might feel for them to wade through interviews and backstage videos looking for a music video. They may just get frustrated and leave your channel.
For this reason, it's best to create playlists for the content on your channel. This will help organize your videos and make it easier for viewers to find what they're looking for. For instance, you could create a playlist for each album you release. Or you could create separate playlists for your music videos, live performances, and behind-the-scenes footage.
What's nice about playlists is that they provide order and make it easier for viewers to find the content they're looking for. It's also incredibly easy to share a link to a playlist. Like an individual video, you can share your playlist on other platforms, texts, emails, etc.
Music Marketing Strategies: Release New Videos Regularly
One of the best ways to promote your music on YouTube is to release new music videos regularly. By doing this, you'll keep your fans engaged and ensure that your channel remains active.
It's important to note that you don't need to release a new video every week. But it will aid your promotional efforts immensely. At the very least, you should try to release a bare minimum of one new video every month.
If you're struggling to develop new ideas for videos, consider releasing live performances, behind-the-scenes footage, or lyric videos. Uploading videos of you talking about a particular song and its meaning will also do well. These are all great ways to keep your fans engaged and promote your music simultaneously.
You could even opt for an incredible image with an audio track showcasing a new song. Irrespective, posting relevant content often and according to a schedule will do wonders for your channel's exposure.
Collaborate With Others on YouTube
Collaborating with other musicians is a great way to promote your music on YouTube. You can reach out to other musicians you think would be a good fit for collaboration and work on a project together.
A great way to find a YouTuber to collaborate with is to use a browser extension tool like TubeBuddy. This is an excellent tool primarily aimed at helping you optimize your channel and gain exposure.
But it also allows you to find YouTubers relevant to your channel. And once you've found a few, you can approach them and ask them whether they'd be willing to work with you.
For example, you could create a cover song with another artist or make a music video together. This is a great way to reach a new audience and promote your music to a broader group of people.
If you find yourself performing or touring with another artist or band, talk to them about combining your music marketing strategies. Ask them if they would be willing to include you in some of their YouTube videos or shorts. And see whether they might be open to adding a link in the description to your channel. You could do the same for them.
Another great way to promote your music on YouTube is to work with other YouTubers. There are many ways you can do this. One way is to collaborate with influencers on videos. This is a great way to reach a new audience and get your music out there.
You can also work with influencers as a guest star on their videos. And you could consider interviewing other YouTubers on your channel. This is a beautiful way to build relationships and get your music heard.
Cross-Promote Your Music on Other Platforms
One of the great things about YouTube videos is that they integrate with almost all other social media platforms. Simply posting the link to your YouTube video will automatically generate a thumbnail with the title displayed. This visual representation makes it far more attractive and likely to receive clicks.
Therefore, you should also cross-promote your music on other platforms using links to your videos. This means promoting your YouTube videos on Facebook, Twitter, LinkedIn, Instagram, etc.
You can also promote your music on your website or blog. Most website platforms, such as WordPress, allow you to embed YouTube videos on your site or blog posts. This makes it easy for visitors to your website to view the video on the website without having to leave it.
Promoting your YouTube videos on multiple platforms like this will help you promote your music more effectively. It should also guarantee exposure to a broader audience.
Host a YouTube Live Stream
Another key element to promoting your music on YouTube is to host a live stream event. This is a fantastic way to connect with your fans. You could give them a behind-the-scenes look at your music. Or you might consider streaming a live performance. This may also be the perfect option for an online release party.
You'll need at least a decent webcam and an external microphone to host a live stream. If you're thinking of hosting a live performance, you may want to contact an audiovisual expert to assist. There's also special software you can use to improve the quality of your live stream if you're on a tight budget.
When you're ready to go live, announce it in advance. You could create a preview or teaser video and release it a week before your live event. And it's best to start sharing the link to your live events across your various platforms at least 48 hours before the event.
YouTube also gives channel owners the ability to create a live section on their YouTube channel. With this feature, you can create a live event and promote it on your channel ahead of time. Fans will be able to set a reminder for the upcoming event.
This is a great way to increase the visibility of your live stream and ensure that more people see it. Bear in mind, though, that it takes at least 24 hours to activate the live streaming feature on your channel. So, ensure you've set everything up before you start promoting your event.
Music Marketing Strategies: Get Involved in the YouTube Community
Another great way to promote your music on YouTube is to get involved in the YouTube community. There are several ways you can do this. One way is to comment on other people's videos. This is a great way to connect with other YouTubers and build relationships.
You should also reply to comments on your videos. This lets your fans know that you appreciate them and care about what they have to say.
When you respond or comment, add value and leave thoughtful comments. This will help you stand out from the crowd and get noticed.
Initiate a YouTube Contest
Contests are also an excellent way to promote your music on YouTube. This is because they give people a reason to watch your videos and share them with their friends.
When you run a contest, make it easy for people to enter. A requirement for entry could be liking, commenting, and/or sharing your video or subscribing to your channel. Whatever it is, remember that the idea is to increase your following and improve engagement with your videos.
You could even ask people to create their own videos and share them with you. A great example of a contest would be a cover contest. You could ask people to create a cover of one of your songs and share it with you for this type of contest. Then, you could select the best cover and feature it on your channel.
This is a great way to promote your music and encourage people to engage with your content. Be sure to promote your content across your social media channels and in any other places where your target audience hangs out.
Distribute Your Music to YouTube Music
Music Marketing Strategies: Apart from setting up your channel to promote your music on YouTube, you can also distribute songs and albums to YouTube Music. This is a special section of YouTube dedicated to audio streaming.
Users can set up their YouTube Music experience by selecting their favorite artists from a long list provided. This lets YouTube know what type of music you like. The platform then formulates playlists for you based on your personal taste.
For a musician or band, the YouTube Music part of the platform could be immensely beneficial. With your music here, there's a chance that YouTube could add it to the playlist of someone who listens to similar music.
To ensure your music is distributed to YouTube Music when you release a song or album, contact Sugo Music Group. Sugo Music Group has more than 35 years of experience in the music industry.
The company specializes in music distribution and publishing. And working with Sugo Music Group means that your music will be distributed to over 200 platforms, including YouTube Music.
Create a YouTube Marketing Strategy
Now that you know how to promote your music on YouTube, you must set up an action plan. You must determine what your music marketing strategies are and how you'll work toward achieving them.
Remember to ensure that your goals are realistic and achievable. And then, create a calendar to help you manage your upload frequency and the time you'll spend engaging with fans.
While uploading videos and responding to comments regularly is essential, it must be manageable. Don't set impossible targets and timelines you simply cannot meet. Your music should come first. And if you find you have too little time for promotional work, hire a professional.
Creating a YouTube ad may also be helpful. It can be a great way to reach a wider audience. And it could promote your music to people who might not otherwise see your videos. That said, it's entirely possible to promote your music on YouTube successfully without using paid advertising.
Official Artist Channel
Once you have a few videos uploaded to your channel, you can consider converting to an Official Artist Channel on YouTube. These channels are specifically designed to help musicians promote and display their music most effectively.
YouTube is big on education and provides a host of videos to help creators excel on the platform. And the Official Artist Channel is no exception. Here you'll find tutorial videos geared toward helping musicians make the most of their YouTube channels.
An Official Artist Channel comes with several features that benefit musicians specifically. These include optimized channel layouts to help promote your music on YouTube. And the Official Artist Channels provide musicians with more specialized analytics for artists.
Music Marketing Strategies: Conclusion
YouTube is an excellent platform for promoting your music. And there are several ways you can use this platform to your advantage. By following our above guidance, you should see your YouTube channel and fanbase growing in no time.