Some artists hire an audio producer and recording studio to get professional-level audio. While that offers more bang for the buck, it's not a feasible route for most. That's why sound engineering software exists to level the playing field.
Apple Logic Pro is the best DAW for Mac users, offering a suite of robust features. This includes drum production, beat-making, and spatial audio. Other audio production tools worth the investment include ImageLine FL Studio and Adobe Audition. DAWs like PreSonus's Studio One are revered for their advanced music engineering capabilities, catering to songwriters and beatmakers, amongst other creative professionals.
So, as a bedroom musician, what sound engineering software would make the best sidekick? Read on as we dive into our top picks of music production tools for musicians.
Our Best 7 Picks
For studio-quality output – AVID Pro Tools
For advanced sound engineering - PreSonus One 6
For Mac users – Apple Logic Pro
For EDM production – Image-Line FL Studio 21
For flexible and visual workflows – Bitwig Studio
For multitrack recording – Adobe Audition
For budget-conscious users - Steinberg Cubase Pro 12
The Top Sound Engineering Software
1. AVID Pro Tools – For Studio-Quality Output
Pro Tools is an essential software in sound engineering. It's the industry standard and has long been used for classic albums.
In addition, it excels in providing a blank canvas for music creation. Plus, it offers exceptional audio editing, allowing users to work with precision down to single cycles of waveforms and seamlessly crossfade between them.
For recording bands and mixing, Pro Tools is an excellent choice. It offers high-quality plugins, though they are in a proprietary format. However, MIDI and virtual instruments fall behind compared to other software more suitable for electronic music's beat-heavy rhythms.
Pro Tools offers advanced versions for high-end music production and features the Avid Audio Engine for efficient processing. While it's exceptional for specific tasks, it may not be the best choice for modern electronic music.
Features
High-quality audio recording: Seamlessly record punches and loops.
Seamless hardware integration: Use any audio interface that meets your needs to record into Pro Tools.
Elastic Audio: Easily fix timing, beat match audio, and correct notes.
Mixing plugins: Access up to 120 plugins to fine-tune tracks, from compressors and EQs to unique effects.
MIDI: Create realistic-sounding tracks quickly.
Pricing
AVID offers the following plans for Pro Tools:
Intro (Free): Perfect for beginners getting started with audio engineering, this plan is ideal for grasping the ropes of the software.
Artist ($9.99/month or $99/year): Ideal for creating professional-quality music and beats.
Studio ($29.99/month or $299/year): Built for musical artists who need a complete toolset for sound production.
Ultimate ($99/month or $599/year): Perfect for musicians who need a complete advanced toolset and workflows for music production.
Benefits
Offers a range of features that are great for recording, editing, mixing, and mastering audio
Immensely powerful and detailed editor
Straightforward editor and mixer approach
Highly customizable application and UI (performance, function, and appearance)
Available in different versions, so it's accessible for different budgets
Drawbacks
Extremely limited free version
Has limitations in terms of the number of projects and saving option
For best stability, it needs a dedicated computer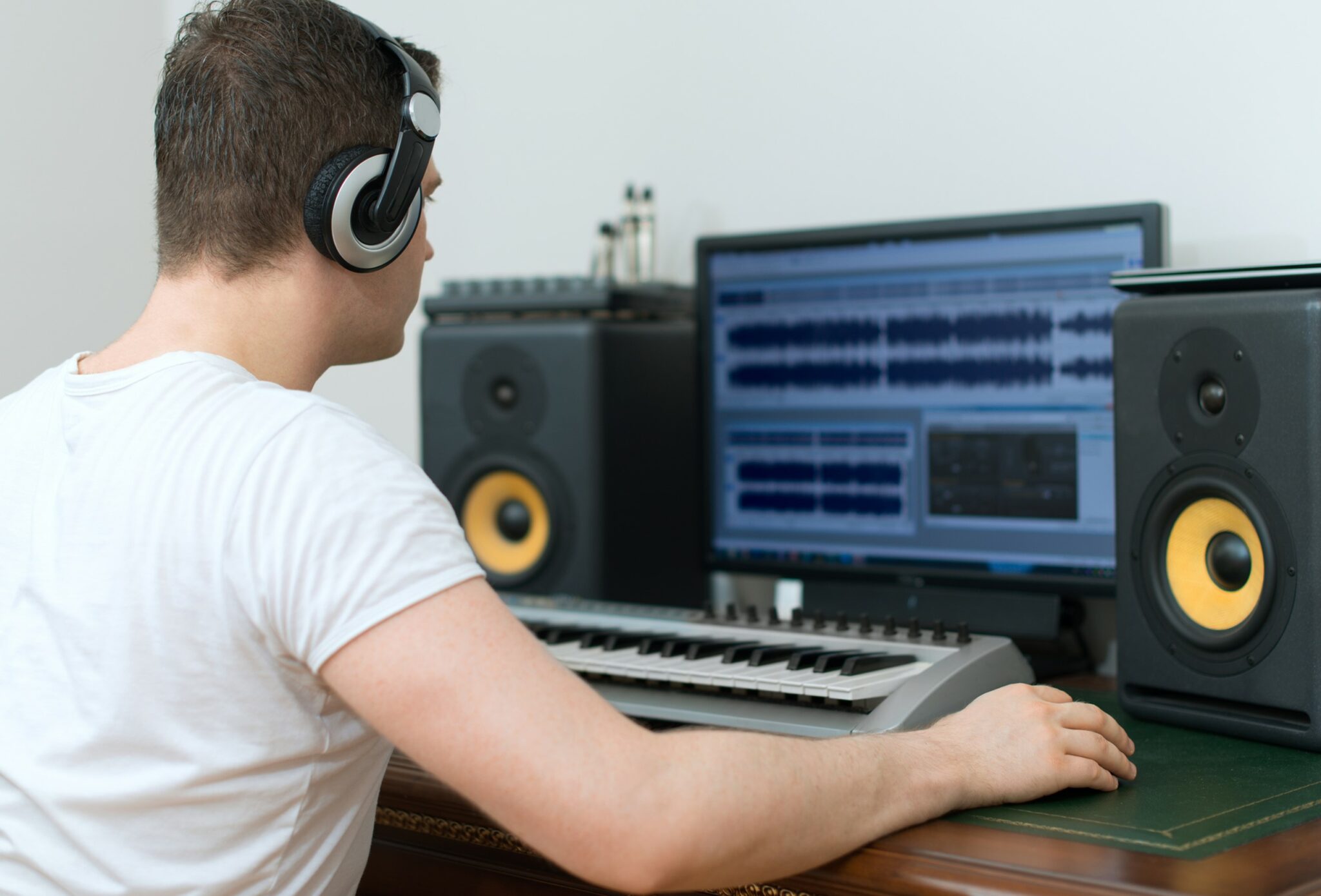 2. PreSonus Studio One 6 – For Advanced Sound Engineering
Studio One is the gold standard of user-friendly and versatile DAWs. It offers a professional recording environment with a streamlined workflow. And it includes a range of high-quality audio plugins, extensive mixing and routing options, and a comprehensive mastering solution.
Whether songwriting or beatmaking, Studio One supports various creative needs. It's not just a blank canvas but actively supports artists throughout their creative process.
One of Studio One's strengths is its adaptability. With free, affordable, and professional versions available, users can scale up as their skills develop. It also stands apart from other DAWs in terms of scope and fluidity.
Features
Intuitive drag-and-drop workflow: Create faster and easier with the drag-and-drop functionality.
Smart Templates: Fast-track recording, mixing, and mastering with templates that provide essential toolsets.
Built-in beat maker: Make beats quicker with integrated pattern editing and live looping.
Complete suite of included effects plugins: Amplify your mixing process and get inspiration for your productions with Studio One's comprehensive suite of included effects plugins.
Global Lyrics Track: Add lyrics as you go, assigning them to a specific note by word or syllable.
Pricing
Studio One 6 is available in three pricing tiers:
Artist ($99): A powerful yet light version with everything you'll need to record and produce a track.
Professional ($399): A robust version with recording, mixing, and mastering features.
Studio One+ ($19.99/month or $179.99/year): The most comprehensive subscription-based version that gives unlimited access to every add-on and feature.
You can also demo the pro version for 30 days.
Benefits
Easy-to-navigate arrangement window
Excellent mixing console
Expert effects and software instruments
Fast workflow for recording, music composition, and mixing
Offers a range of helpful interface tweaks and new plugins
Drawbacks
Doesn't have as many included instruments
Uses different terms than other DAWs
Best features are only available through the subscription plan (Studio One+)
3. Apple Logic Pro – For Mac Users
Logic Pro has a rich history in innovative music production. However, when Apple acquired it, its evolution stagnated. Still, with recent updates, Apple Logic Pro has returned to the forefront of audio creation.
Boasting a clean and intuitive interface, Logic Pro appeals to those who want a straightforward and effective sound engineering tool. It also has an extensive sound library, a surround mixer, 3D object planning, live loops, and a beat sequencer.
For the price, Logic Pro is a steal. It offers a combination of functionality, stability, and value for musicians. Its recent updates have reinvigorated its appeal, making it a strong contender among digital audio workstations (DAWs).
Features
Spatial Audio: Create fully immersive spatial audio mixes using integrated Dolby Atmos tools.
Drum production and beat making: Use Drum Machine Designer to build and perform on your custom kits.
Sound Packs: Tap into the massive collection of instruments, loops, and samples to enhance your tracks.
Creative and production effects: Enhance your tracks with various dynamics processors, EQs, and other production effects.
Compositions and performances: Record your compositions and performances and arrange them in real-time to quickly build beats and melodies.
Pricing
Apple Logic Pro is available at $199.99. You can also take it for a spin at no cost for 90 days.
Benefits
Good value for money
Clean and simple interface
Range of built-in virtual instruments, effects, plugins, and loops
You can easily switch between production phases
Generous free trial
Drawbacks
Only available for MacOS
Interface might be unintuitive for some
Difficult to produce Electronic Dance Music
To choose the best music engineering tool, consider the features you need. The software's user-friendliness and interface, compatibility with hardware and plugins, and your budget will also play a role.
4. Image-Line FL Studio 21 – For EDM Production
Martin Garrix. Afrojack. Deadmau5. What do all those musicians have in common besides being notorious for creating the best EDM songs worldwide? They all use FL Studio.
Once known as Fruity Loops, FL Studio is a versatile DAW. It often slips through the cracks because of its unconventional beginnings.
Despite lacking the polished aesthetics of some competitors, it played a pivotal role in enabling bedroom musicians to create electronic dance music. While now a full-fledged professional DAW, FL Studio's core strength lies in its beats, loops, and powerful synth sounds.
For beginners diving into sound engineering, FL Studio is an excellent choice. The software offers standard features like audio recording, editing, MIDI support, and pre-loaded content. It also provides free lifetime updates and is available on desktop and mobile platforms.
Features
Instruments and effects: Use a range of synths, plugins, and effects to develop your sound.
Samples, loops, and presets: Use carefully selected samples, loops, and preset packs when producing your tracks.
Multiband delay: Access 16 frequency band delay with independent control.
Audio clips: Use integrated envelopes with fade in/out, precise level control, and automated crossfades.
VFX sequencer: Leverage an advanced step sequencer to transform chords into melodic phrases.
Pricing
FL Studio 21 pricing plans are suited to different needs as follows:
Fruity Edition ($99): A beginner's virtual music studio.
Producer Edition ($199): All-in-one virtual studio for creating full songs and microphone recordings.
Signature Bundle ($299): All you need for music production, from instruments to audio editors.
All Plugins Edition ($499): The most feature-rich version of FL Studio 21 that comes with native plugins from the time of purchase.
You'll receive lifetime free updates when you purchase any edition of FL Studio.
Benefits
Various synths and effects
Loops and step sequencing
Visually appealing and intuitive interface
Various pricing plans for different budgets
Straightforward and smooth workflow
Drawbacks
Simple audio editing
Learning curve
Poor console integration
5. Bitwig Studio – For a Flexible and Visual Workflow
Bitwig Studio is a multipurpose and creative DAW that offers a modular environment with endless possibilities. It shares similarities with Ableton Live but takes a more visual and flexible approach.
Its non-linear and modular design and vibrant interface make it a playground for sound engineering. You can seamlessly introduce various modulation sources to shape your sound. And you can integrate with external hardware through MIDI or Control Voltage.
All in all, Bitwig Studio is a powerful platform for musicians seeking a unique and flexible approach to music creation.
Features
The Grid: Build your creations from scratch in a modular sound design environment.
Editing tools: Make edits within musical blocks, add musical logic with Operators, and seamlessly combine the best parts of many takes.
Instruments and effects: Transition seamlessly from idea to song with 90 different instruments, audio and note FX, container devices, and signal routers.
Modulation system: Use Macro controls, LFOs, Envelopes, and Note Expressions to modulate any device, VST plugin, or hardware parameter.
Sounds library: Extend your library with some of the best loops, presets, and sampled sounds.
Pricing
Bitwig Studio's pricing is tier-based, with three plans. These include:
Essentials ($99): The entry-level version with basic features for music creation.
Producer ($199): A more robust version with tools for studio and stage production.
Advanced ($399): All-in-one tool for designing sounds, creating instruments, and unlimited music creation.
Regardless of your chosen plan, you'll receive free Bitwig Studio updates for the following 12 months.
Benefits
Suitable for electronic music producers, experimental musicians, and sound designers
Excellent transition from live looping to arrangement
Offers a range of powerful features and tools
Modulation capabilities that provide flexibility, depth, and ease of use
Drawbacks
Lacks some audio features
Could use a better mixer
May have some stability issues
6. Adobe Audition – For Multitrack Recording
Adobe Audition is a comprehensive audio engineering software within the Adobe Creative Suite. It facilitates sound production tasks like recording, editing, mixing, and mastering. And it's subscription-based and offers advanced features, though it has a learning curve.
One of its notable features is multitrack recording, allowing for enhanced flexibility during mixing. Post-production editing is simplified, enabling you to edit individual parts of your track and clean up specific sections.
The Essential Sound panel also provides special effects capabilities to improve audio quality.
Features
Multitrack editor: Combine multiple audio files into a complete composition for seamless editing.
Waveform and spectral display: Visualize your audio and make precise edits.
Customizable user interface: Adjust the interface to suit your needs using presets.
Professional-grade effects: Enhance your music with EQ, compression, reverb, and delay.
Pricing
Adobe Audition is available with a monthly subscription of $20.99. And you can try it for free for seven days.
Benefits
Contains an extensive set of tools for different needs
Different effects to apply to audio, such as echo, reverb, and modulation
Offers precise, non-destructive editing
Stable long recordings are possible
Free trial
Drawbacks
Learning curve for leveraging the many tools available in Adobe Audition
Lacks music composition tools, such as software instrument libraries and internal MIDI support
7. Steinberg Cubase Pro 12 - For Budget-Conscious Users
Cubase, a pioneering DAW software by Steinberg, has a rich history in the music production world. It introduced essential features like plugins, VST technology, and ASIO for low-latency recording, significantly impacting the industry.
However, Cubase shines in its capabilities as a sound engineering tool. The software's layout resembles Studio One, offering a cleaner and more streamlined user experience.
Moreover, Cubase excels in audio editing, boasting warping tools for quantization, precise automation, and vocal comping. It facilitates spectral editing, pitch correction, and audio alignment. Additionally, its built-in sampler allows for easy beat creation and melodic inspiration.
Where mixing is concerned, Cubase's console rivals a professional studio environment, featuring advanced channel strips, side-chaining, and EQ with spectral comparison. It also offers a complete undo history and snapshot capabilities for efficient mix experimentation.
Overall, Cubase strikes a balance between depth and user-friendliness, making it enjoyable and effective for sound engineering.
Features
Scale Assistant: Set your song's scale in the Key Editor and follow its lead, quantize a solo to the scale, or play live in perfect tune.
Audio Warp Quantize: Warp-quantize multiple audio tracks at once using the convenient Quantize panel.
Comping: Create the perfect version of a recording from multiple takes.
Chord Pads: Compose music quickly and creatively.
Spectral Comparison EQ: Clean up overlapping frequencies with the comparison mode in the Channel EQ.
Pricing
Steinberg offers three core plans for Cubase Pro 12:
Elements ($99.99): Suitable for beginners who require basic music production tools.
Artist ($329.99): Suitable for musicians, songwriters, and home studio producers who require a more streamlined set of features.
Pro ($579.99): The full software version with all the features and tools for professional music production.
Benefits
Enhanced workflow with recording and mixing tasks
Excellent included instruments
Solid and dependable
Provides for tweaks to its Crossfade functionality
Excellent channel strip
Drawbacks
Interface can get crowded
Synchronization between the Part and Crossfade Editor windows could be improved
Takeaway
When it comes to sound engineering, manual work is out, and leveraging music production software is in. It'll streamline your workflows, enabling you to automate repetitive tasks and simplify the mixing process.
To choose the best music engineering tool, consider the features you need. The software's user-friendliness and interface, compatibility with hardware and plugins, and your budget will also play a role. And remember, to produce high-quality sound, you may have to invest time in learning the capabilities of your audio production tool of choice.
Work with a reputable music distributor once you've polished your tracks and are ready to put them in front of listeners. Sugo Music Group provides unmatched music distribution and publishing services, ensuring musicians worldwide get the recognition and royalties they deserve. So, reach out to them today.