Although the music industry is highly competitive, artists can leverage the power of a great music demo to stand out. Now, you might think that technological advancements and the availability of professional recording equipment have made music demos outdated. However, that couldn't be further from the truth.
Music demos are integral to the music industry. They enable artists to showcase their musical abilities, build their fan base before releasing official tracks, and attract industry professionals. To start creating a music demo, assemble your equipment. Next, structure your songs and record bed tracks and scratch vocals. Then mix and master your tracks to ensure your demo is polished and professional.
This post details everything you need to know about music demos. We'll walk you through making your own and pitching to music industry professionals. First, let's dive into what music demos are.
Music Demos 101
The creative process of crafting a song often involves creating a demo. Think of it as a starting point when putting a track together to give listeners an idea of the final song's sound.
You'd typically record a music demo for the use of reference use instead of public release. For instance, if you want your bandmates or arrangers to listen to a sample version of a song and offer feedback.
Sometimes, music demos are used for limited circulation to music industry professionals. This could be to secure a deal with a record label. Or for a promoter to arrange a performance at a local event when you haven't officially released music.
Most music demos consist of three or four songs, each two or three minutes long. However, this depends on the purpose of the demo.
Additionally, since this version of your song is considered a rough draft that you'll polish, it doesn't necessarily have to be radio-ready. But it does have to be good. While a good demo is relative to an artist's skill and experience, it should check some of the following boxes:
Remarkable vocal or instrumental performances
Strong songwriting
Great sound quality
Well-produced
A clear sense of musical direction
Several renowned artists used demos to get their start in the music industry. One notable name is renowned pop star Billie Eilish. At 14, she recorded a 'Ocean Eyes' demo with her brother Finneas in their bedroom studio.
The recording showcased her haunting vocals and Finneas' minimalistic production. And it drew the attention of listeners and industry professionals alike, eventually landing her a record deal with Interscope Records.
Therefore, as history shows, music demos can be crucial to an artist's growth and momentum. Now, let's look at how you can make yours.
How to Make a Music Demo
Knowing how to make a music demo is a valuable skill every artist should build, especially if you're just starting out. It'll prove helpful in taking any track from an idea to a complete production with multiple instruments. So, once you write some songs you're satisfied with, you can start working on your music demo.
It's worth noting that there isn't a right way to make a music demo. The process differs significantly from one musician to another. Whether you're new to making a demo or you've gone down this road before, below is the standard process.
1. Choose a Recording Method
When creating a music demo, you have various recording methods at your disposal. This includes your home and a professional studio.
Contrary to popular belief, you don't need to book time in a fancy studio with the most impressive equipment. You can easily record a clean demo in your home studio.
If you want to record your demo at home, you'll need the following equipment and tools:
A microphone
An audio interface
A Digital Audio Workstation (DAW)
Headphones
A computer or laptop
Your preferred instruments
Your setup doesn't need to be perfect. However, ensure you can get a clean recording and mix your track correctly.
Should you have the budget to go into a recording studio, you also have this option. Working with a professional could be more efficient when it comes to mixing and mastering.
2. Structure Your Tracks
The songs you include in your music demo should be cohesive and well-structured. Although they're rough drafts, they must grab a listener's attention and not confuse them.
As a result, your tracks should have an intro, verse, chorus, bridge, and outro. And they should flow well from one section to another seamlessly.
So after you've written a couple songs or approved a songwriter's submissions, run through them to determine how to structure the sections. You can record a voice note or a video of you performing the songs while doing so.
Also, you can use a single instrument to accompany your vocals. Or create a mock production that demonstrates how the complete performance will sound.
When running through a song, look out for wasted time. For instance, an intro that doesn't cut to the chase quickly or a section where instrumentals drag on for too long.
Additionally, assess whether you can enhance the melody to make the songs more memorable. Perhaps you were thinking of adding a quiet chorus or tweaking the ending. This is the best time to incorporate any big-picture musical ideas.
3. Record Bed Tracks & Demo Scratch Vocals
Bed tracks are the foundation of your songs. So, recording them early on is ideal when creating a music demo. Your songs' bed tracks can include automatic drum programs and loops or live piano and guitar.
Most songs start with drums because they can inspire the other parts of the song. If you're a drummer, record live drums. However, if you aren't, an automatic drum program or loop can work too.
After setting the foundation with the drums, incorporate bass and a basic rhythm guitar, piano, or synthesizer part. In the absence of a bass, a keyboard bass will suffice. Or couple your guitar with an octave pedal to simulate a bass.
Next, record your scratch vocals while singing along to the instrumental track. These will be scratched and replaced with final vocals in the next step. But they'll help you build other sections of your music demo, serving as a reference for the final vocal performance.
Bear in mind that you don't need a perfect take. Therefore, you can record your scratch vocals multiple times until you're satisfied with the result. The idea is to help you get a feel for the song and determine how the final vocal should sound.
After you record your bed tracks and scratch vocals, add embellishments. These additional instruments or sounds can enhance your demo and can include the following:
Shakers or tambourines
Handclaps
Sound effects
Harmonies
Remember to keep your embellishments minimal. While adding several to your song may be fun, they may not all grab attention or improve the track's sound.
4. Add Final Vocals
At this stage, your song sounds more like a song. Therefore, lay down the final vocals using your scratch vocals as a reference.
You can record your own vocals to showcase your vocal range. Otherwise, work with another artist or a vocalist to lay down the vocals for your music demo.
Keep the following in mind when recording your final vocals:
Warm up your voice: This will ensure your vocals aren't strained and you perform better. Vocal exercises or singing along to a warm-up track can work in this case.
Use a pop filter: This will help reduce plosives and other undesirable sounds the microphone picks up.
Try different mic placements: The best spot to place your mic depends on your voice and the room or studio's acoustics. Therefore, try different positions to find the best one for your voice.
Experiment with vocal styles: Try using different vocal techniques or registers and perhaps add harmonies.
Record multiple takes: Having more than one recording can help you find the best take. You'll also have more options to work with during mixing.
5. Mix and/or Master Your Demo
During the mixing process of making a music demo, you'll polish and assemble your song. This entails balancing sounds, combining multitrack recordings, and ensuring your music demo is coherent and fluid. If you're new to mixing, check out tutorials online to better understand the process.
Besides mixing your music demo, you have the option of mastering it. This involves using equalization, limiting, and stereo enhancement tools to boost the track's overall sound and quality. Mastering can also entail simply applying clipping or adjusting the song's gain.
Typically, the songs included in a demo aren't mastered because they're not considered the final versions. And before the advent of affordable software, it was an expensive process.
Therefore, when deciding to master your music demo or not, consider its purpose. If you want to pitch to music labels or venues, a mastered demo can help you stand out. However, mastering your demo may not be necessary if you won't be sharing it with music industry professionals.
You can master your demo independently using your DAW. Software like Landr's AI-powered mastering software and iZotope's Ozone 10 are also worth checking out. Alternatively, you can hire someone to master your songs for you.
6. Design Your Demo's Artwork
Once you have polished your songs, create artwork to accompany your music demo. Note that it's only necessary if you're pitching your music to industry professionals. This is because you should ideally present your demo professionally.
You can take a DIY approach to create your demo artwork using Photoshop or Canva. Alternatively, hire a graphics designer through a freelance platform like Fiverr.
Pitching Your Music Demo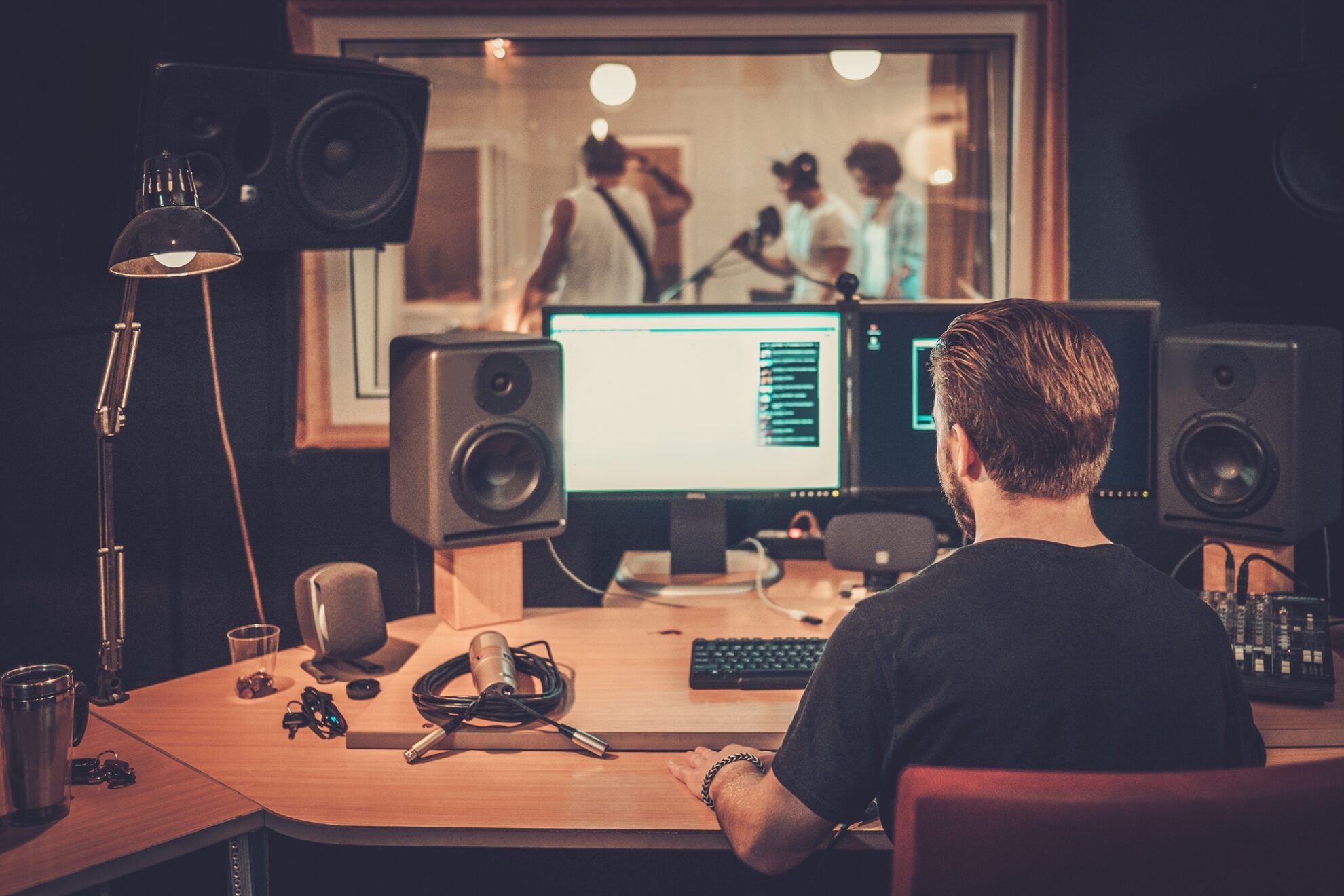 Perhaps you're creating a music demo to land a contract with a record label. Or maybe you want to work with a music publisher to have your music licensed for television or other media.
Whatever the case, your music demo pitch must be top-notch to grab the recipient's attention. Below are the steps to prepare your music demo pitch for music industry professionals.
1. Research Your Target Audience
Start by researching your target audience. This can be anyone in the music industry, from record labels and publishers to gig promoters and venues.
Directories like Labels Base and Songwriter Universe are ideal for finding record label information. Note that some record labels don't accept unsolicited submissions from artists. This is because they are often swamped with requests.
However, plenty of other record labels accept music demos. They typically have an A&R (Artists and Repertoire) department responsible for sourcing talent and reviewing demo submissions.
Smaller labels are often a great way to get a foothold in a specific scene. Their workload is less, so they might be more lenient with unestablished artists and even be able to give you feedback.
Instead of using a directory, look into where your favorite or inspiring artists are signed. Or check out the labels similar musicians have deals with. That way, you can tell if your music style will suit a recording company.
You can typically find this information on online music databases like Allmusic and music industry websites like Billboard. Otherwise, check out the artist's website or social media pages.
Create a list of potential music industry professionals that you want to pitch. Remember to also note down their contact details.
Most labels and publishers detail their preferred way of receiving demos on their websites, including a dedicated email address. Or they may have a submission portal with clear guidelines.
Without a submission portal and guidelines, send them a direct message on social media asking if they accept submissions. Remember, this isn't an opportunity to pitch. Therefore, keep it short and focused on getting the contact email dedicated to music demos.
2. Prepare Your Pitch
Music industry professionals are often strapped for time. So keep this in mind when preparing your pitch. It should showcase your potential as an artist without overwhelming the recipient with unnecessary details.
A great pitch adheres to the specified submission guidelines. If there aren't any submission rules, keep your pitch one or two paragraphs long.
The purpose of a pitch is to give the listener a sense of the song's style and arrangement. Therefore, include relevant details about the instruments, sound, mood, and subject matter. Also, sell your brand and the music you plan to release.
Moreover, explain your intentions clearly. Do you want to get feedback on your demo? Are you interested in signing a recording contract or a publishing deal? Make your goals known so the recipient knows what next steps to take.
Also, include anything that shows the recipient how beneficial it'll be to work with you. For instance, stats about your social media following or recent press interviews.
Now, you might be puzzled about achieving all that in one email. Therefore, here's an example of a pitch for an indie music demo being sent to a record label:
"We're sharing our indie music demo showcasing a unique blend of poignant vocals, eerie guitars, and atmospheric synths. With thoughtful lyrics exploring self-discovery and resilience, our music aims to draw listeners in with its emotive storytelling and tranquil soundscapes.
We want to collaborate with Scenic Sounds to bring our compelling and heartfelt music to a broader audience. We have a dedicated TikTok following of 300K, and we were recently featured in Orange Magazine."
Lastly, add a salutation (Dear [Name]) and a sign-off. Also, remember to be polite and professional.
3. Send Your Pitch
Now that you have a list of music industry professionals to contact and a succinct pitch, it's time to get your music demo heard. It's best to avoid sending your demo as an MP3 or WAV file attachment to an email. This could cause the email to bounce or take up space in the recipient's inbox.
Therefore, send a link to the audio file hosted on a platform like SoundCloud. Consider working with a music distributor to ensure adding your music to SoundCloud goes off without a hitch.
Sugo Music Group is a seasoned music distributor. They have helped several artists establish themselves in the industry. And their distribution service is unmatched.
Alternatively, you can use Google Drive to host your music files. Remember to add your email address to the filename of each track. That way, the recipient will know how to contact you if they can't find your original email.
With the demo's delivery method sorted, email your list of recipients. Be sure to reply cordially to any responses that provide feedback you don't expect. This shows that the person took the time to listen to your track.
Also, be patient. You might not get an immediate reply. However, you'll eventually get a positive response as you put yourself out more.
Conclusion
Creating a music demo is a great place to start to get an idea of how the final song will sound. However, it can also help you land an agent, gig, or sign with a recording company.
To make your demo, start by ensuring you have the right equipment. You can create a home studio or book time at a local recording studio if you have the budget.
Ensure that you arrange your song to remove any unnecessary segments. And lay down your bed tracks to build upon with your vocals. Scratch vocals are a great starting point before recording your final vocals, so begin there.
When pitching your track, researching your target audience is vital. This will ensure your music demo lands in the hands of someone who will appreciate your sound. Also, it can inform your pitch email. And remember to be polite and patient when sending your music demo to industry professionals.